This is part two of the reveal of this Edgewood beauty where we are featuring the primary bathroom, powder bathroom, and laundry room. With timeless and classic style, these primary living spaces are both functional and beautiful. Interested in seeing more after this tour? Find part 1 here!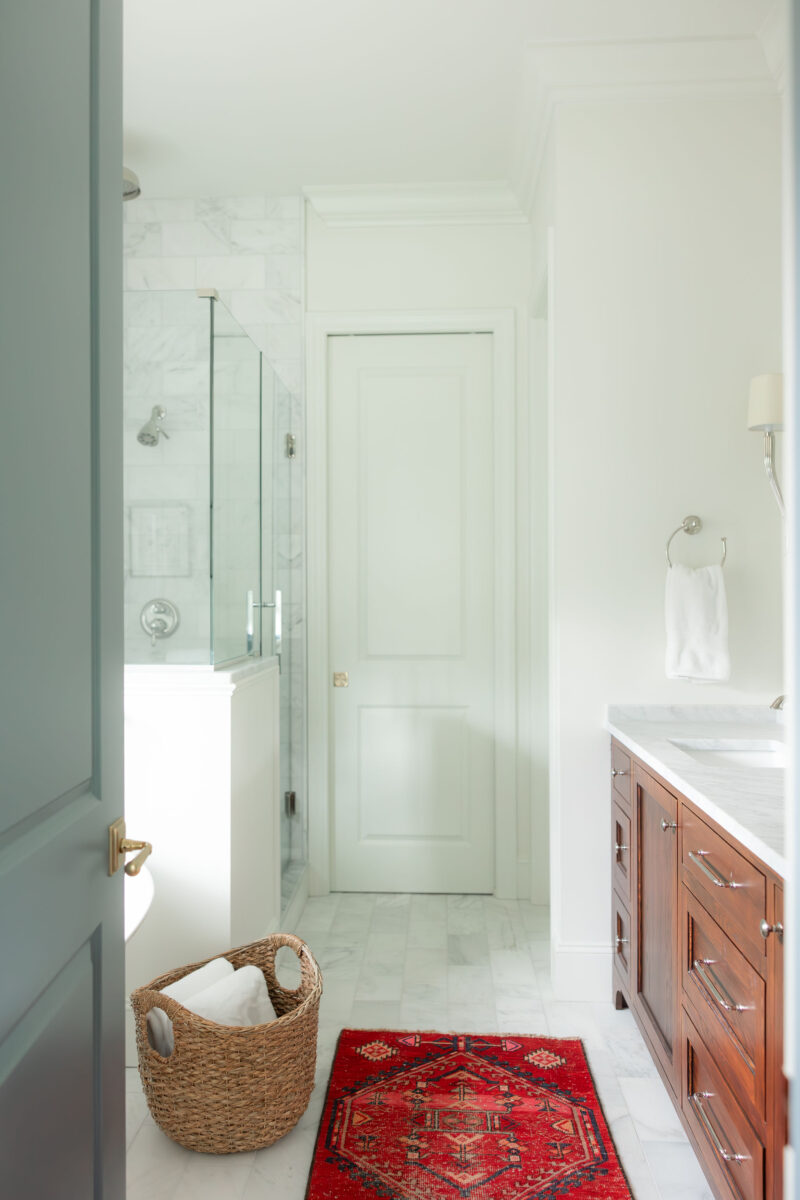 Primary Bathroom Suite
The primary bathroom in this home reveals a sense of refined luxury. Upon entering, you are greeted with honed marble with a smooth matte finish. The same honed marble is used in the shower to create continuity.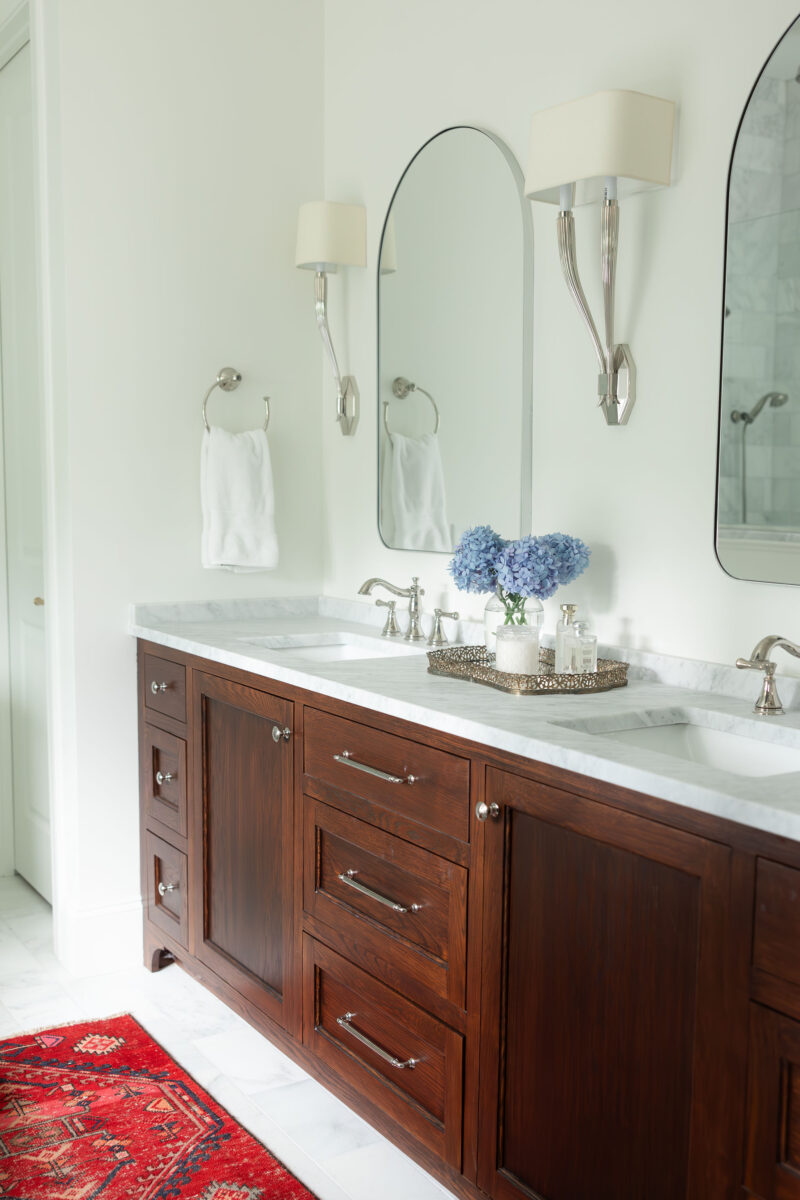 The double vanity is adorned with custom warm wood cabinets that add a touch of natural elegance to the space. A marble countertop frames the vanity, creating a stunning contrast with the wood. Along with the classic elements of marble and warm wood, the polished nickel faucets provide a timeless and sophisticated look.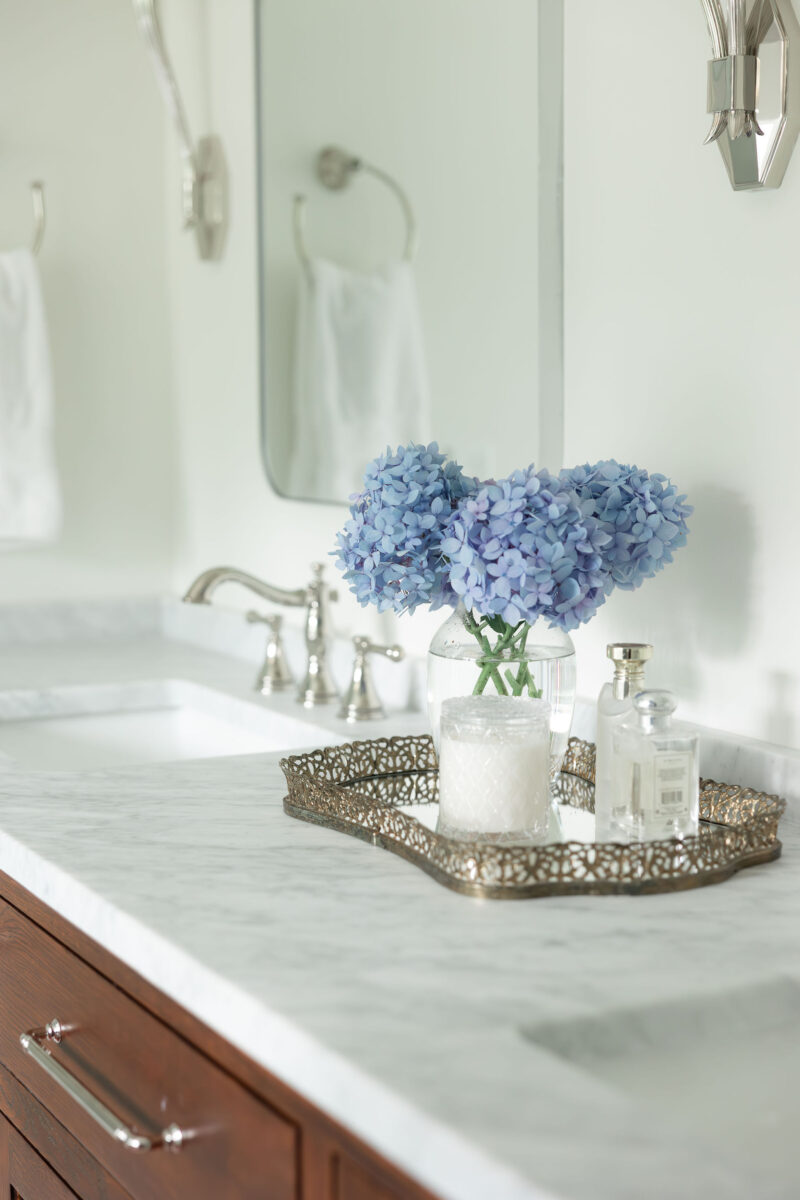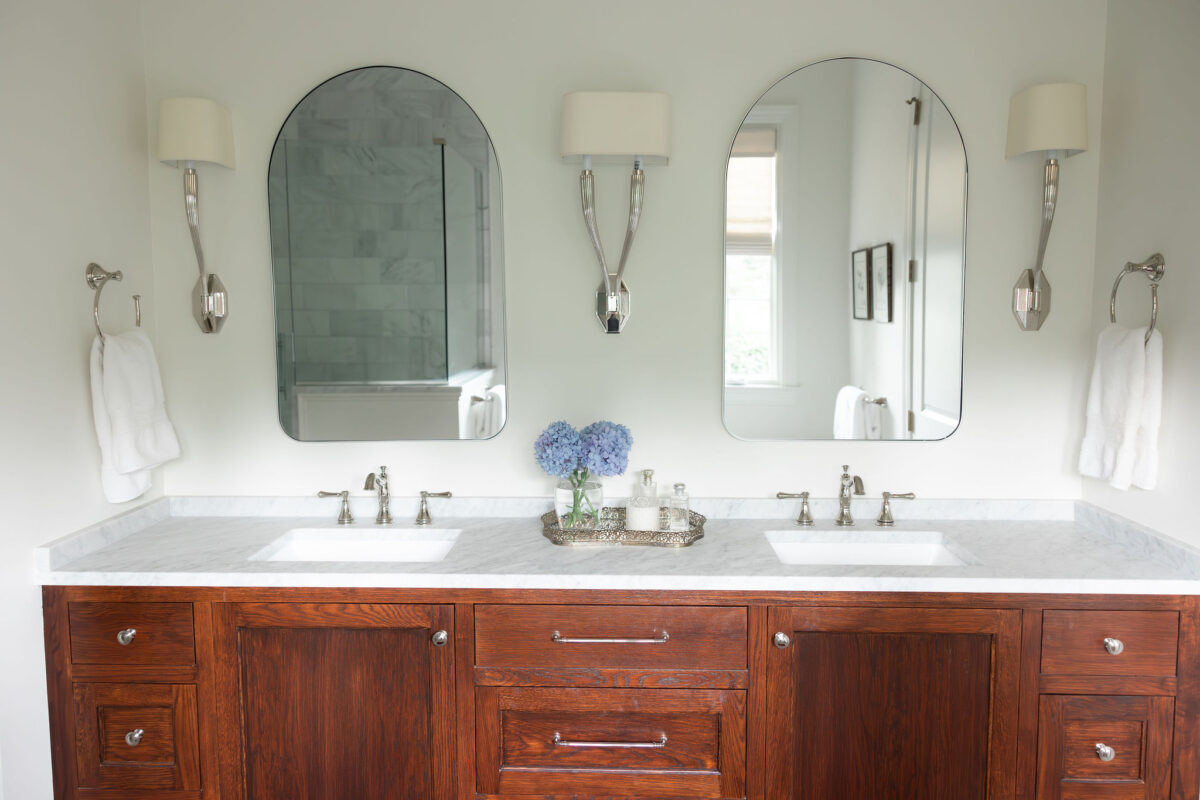 Opposite the warm wood cabinets, there is a freestanding tub alongside a spacious shower. Natural light floods this space, making it a perfect retreat for relaxation and soaking.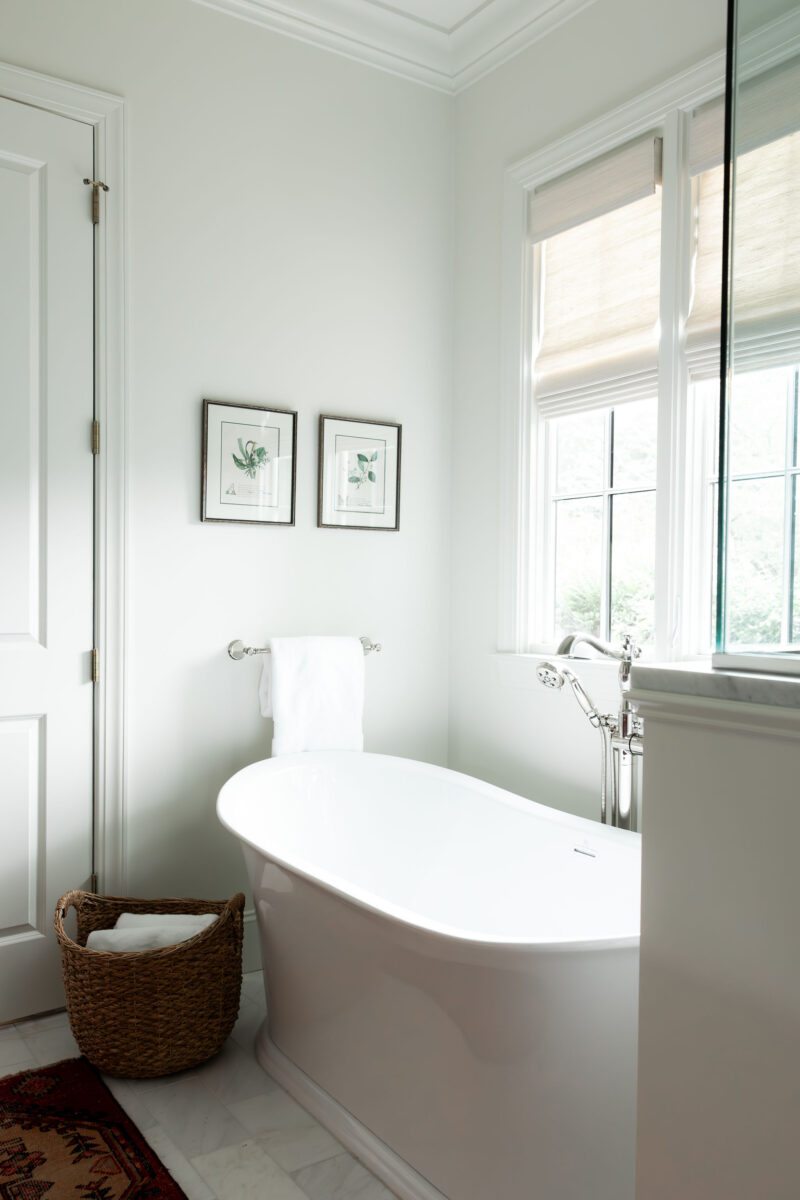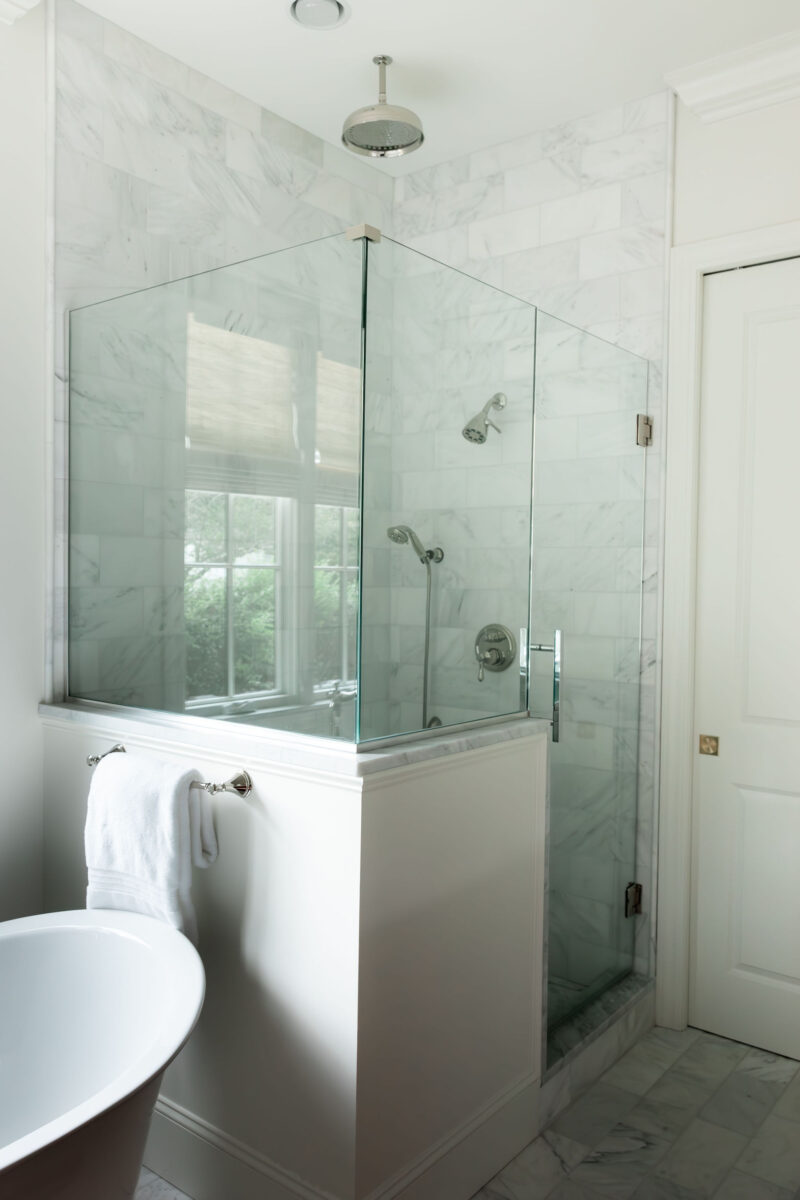 Along with a traditional shower head, we installed a rain shower head for added luxury and a spa-like effect. Additionally, the same honed marble extends to create a luxurious and cohesive look. Lastly, a small hidden niche discreetly adds storage, keeping the space clutter-free and functional.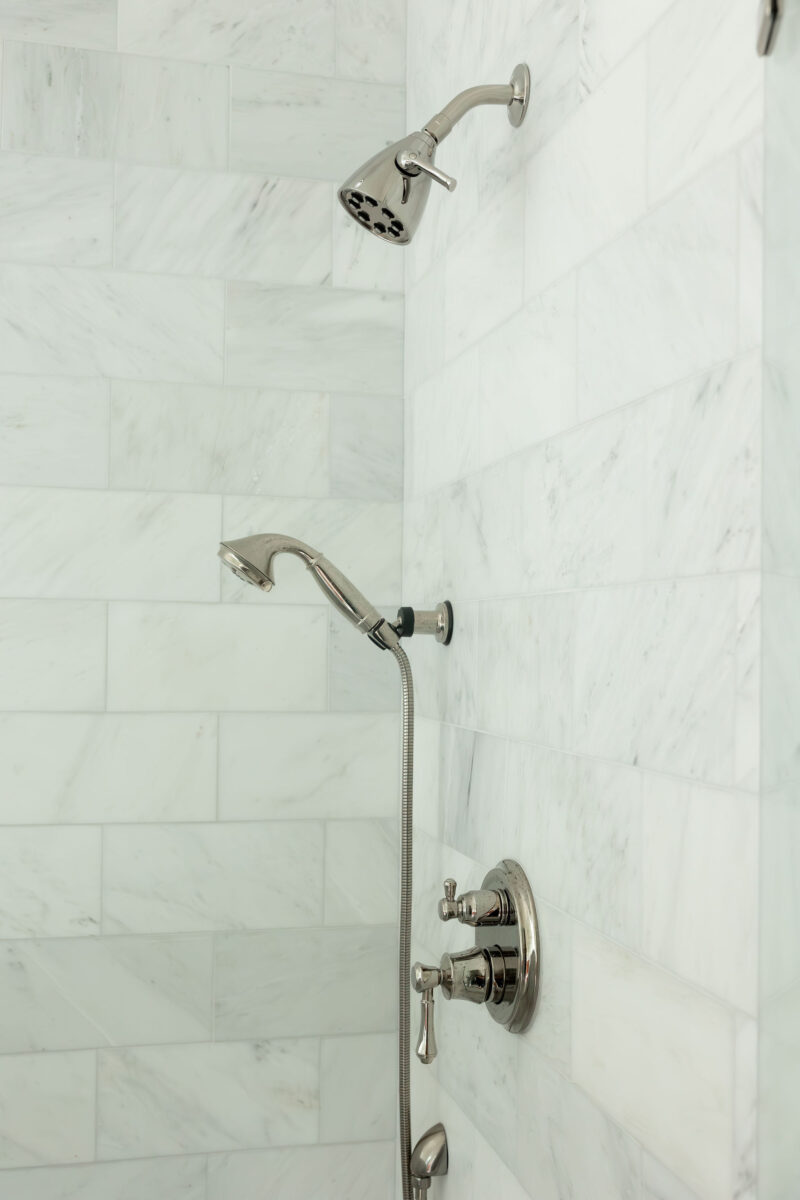 Green Floral Laundry Room
This hard-working room embraces practicality and beauty! The homeowner loves green accents, so Lydia Smith of Twin Interiors, chose a playful green and blue palette.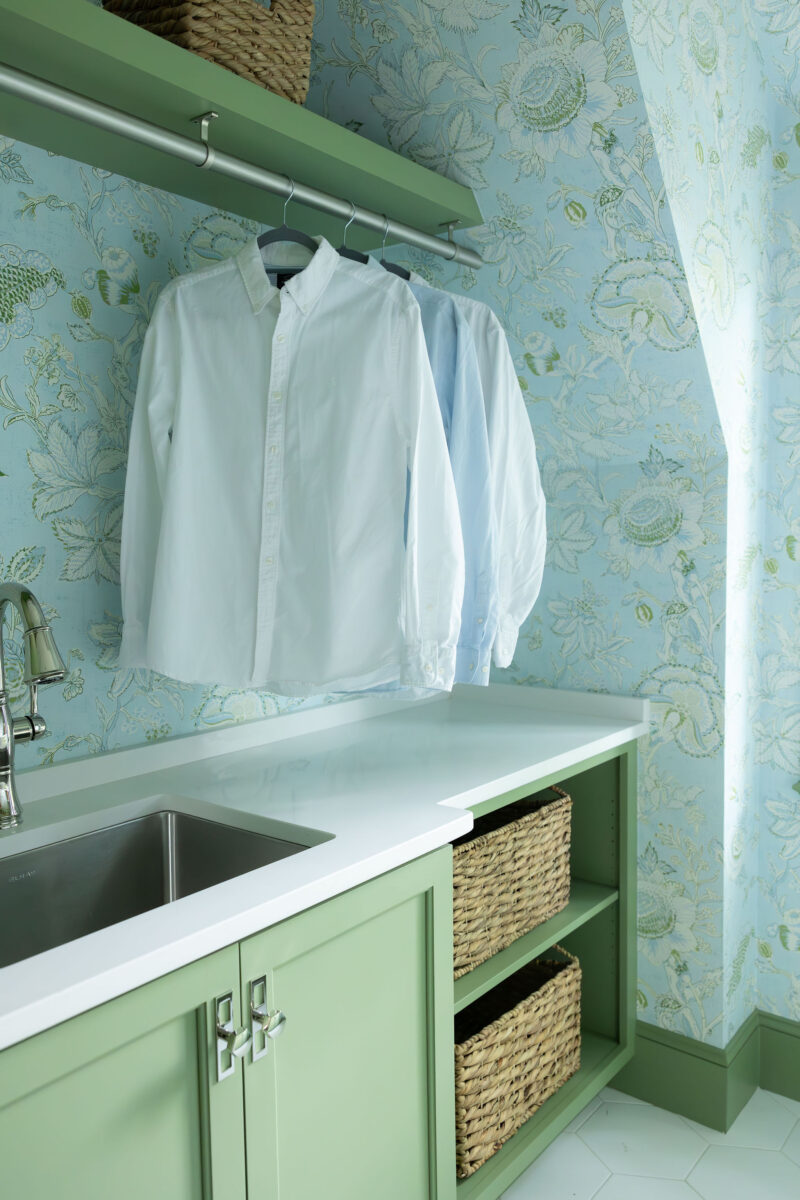 Covered in a soft blue and floral wallpaper, this elegant laundry space was designed with storage in mind. There are multiple cubbies for clothing, linens, and more. The homeowner can easily suspend linens and dress shirts straight from the washer to hang dry delicates and blouses.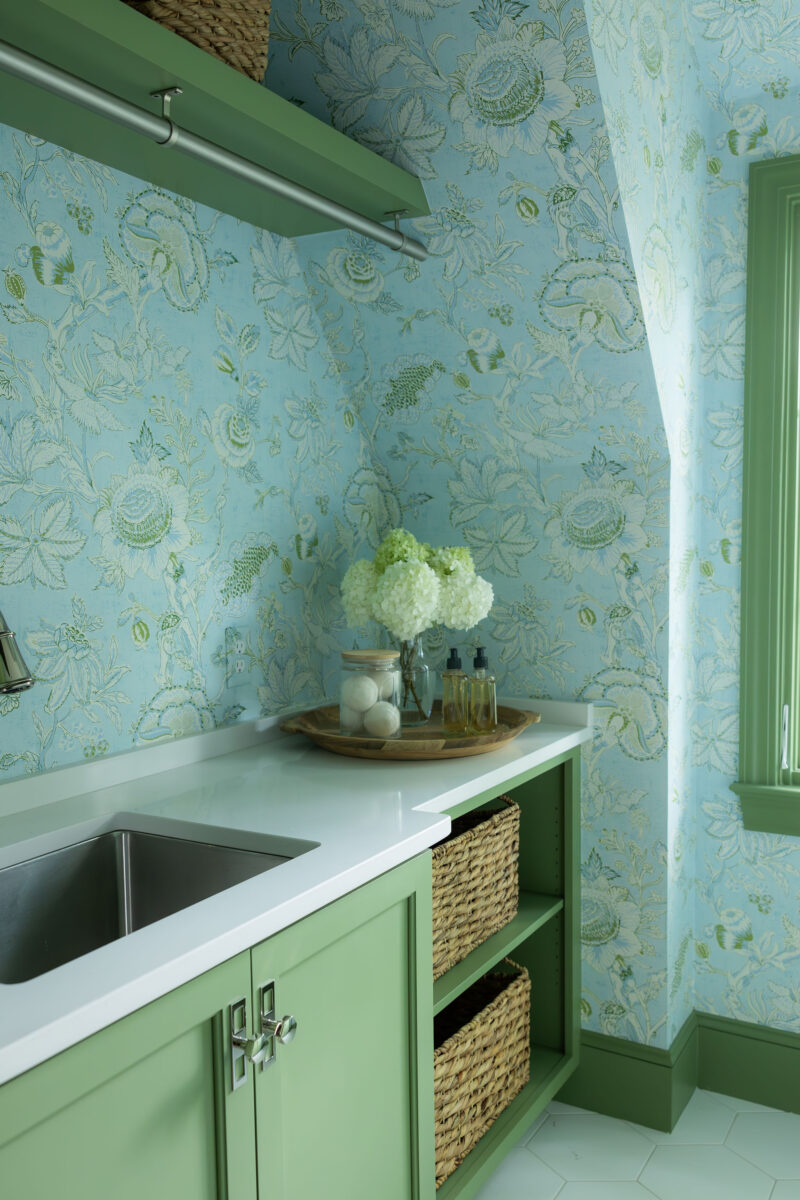 With an added utility sink for rinsing and treating stains, this laundry room is a powerhouse for a family's laundry needs. Neatly tucked away behind beautiful custom cabinets, the homeowner stores all of her necessary cleaning supplies.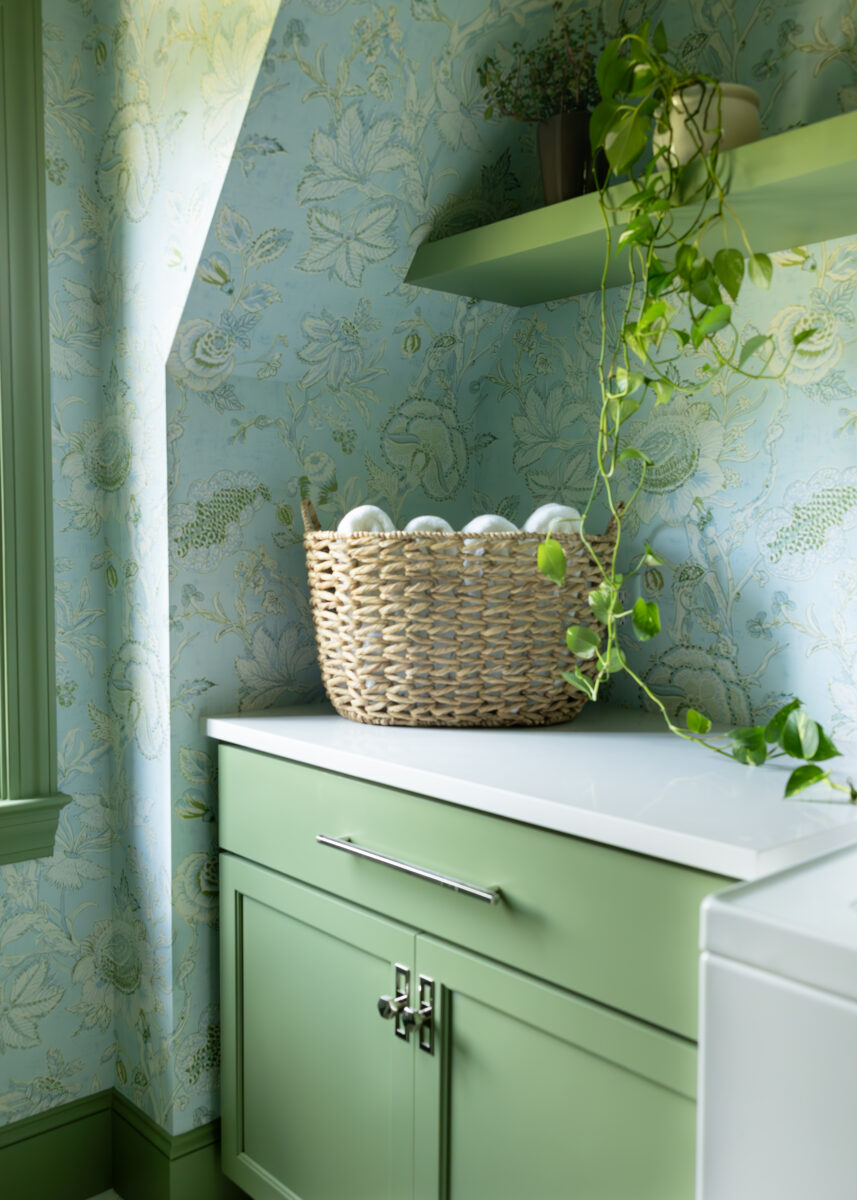 Lastly, this laundry room was designed to have plenty of folding spaces for freshly washed laundry.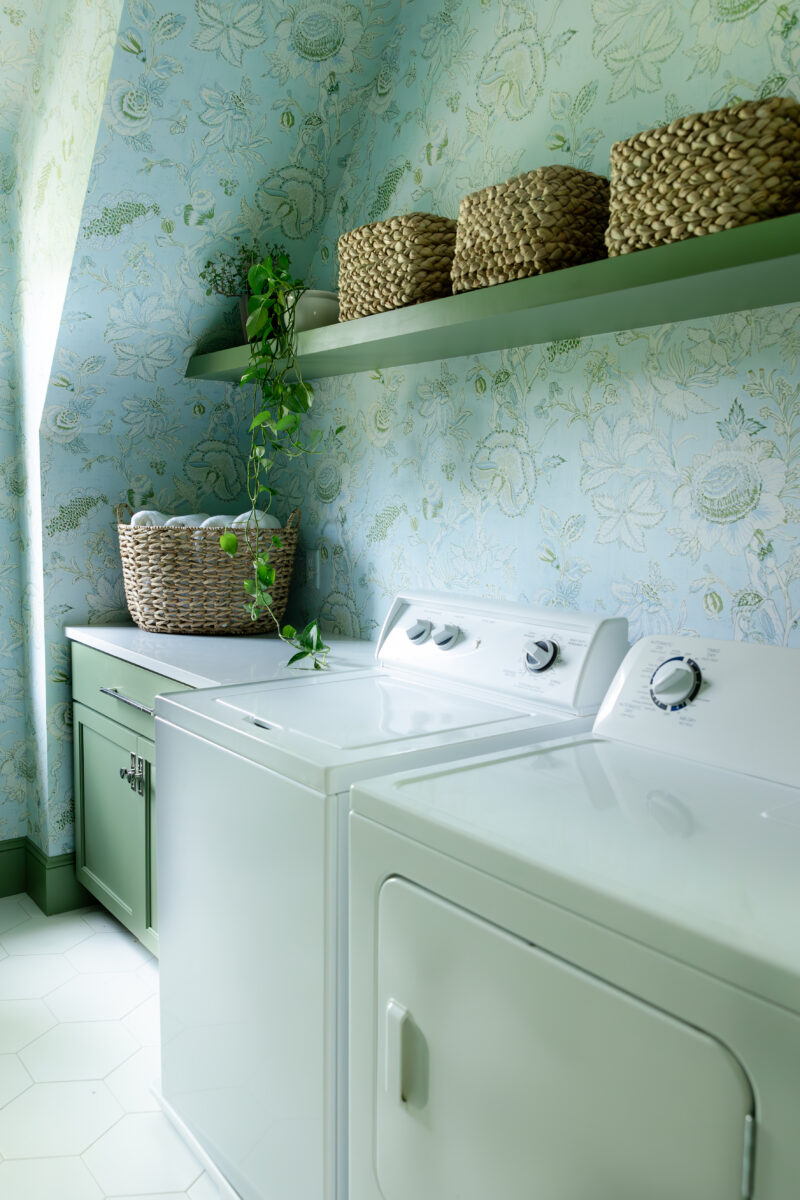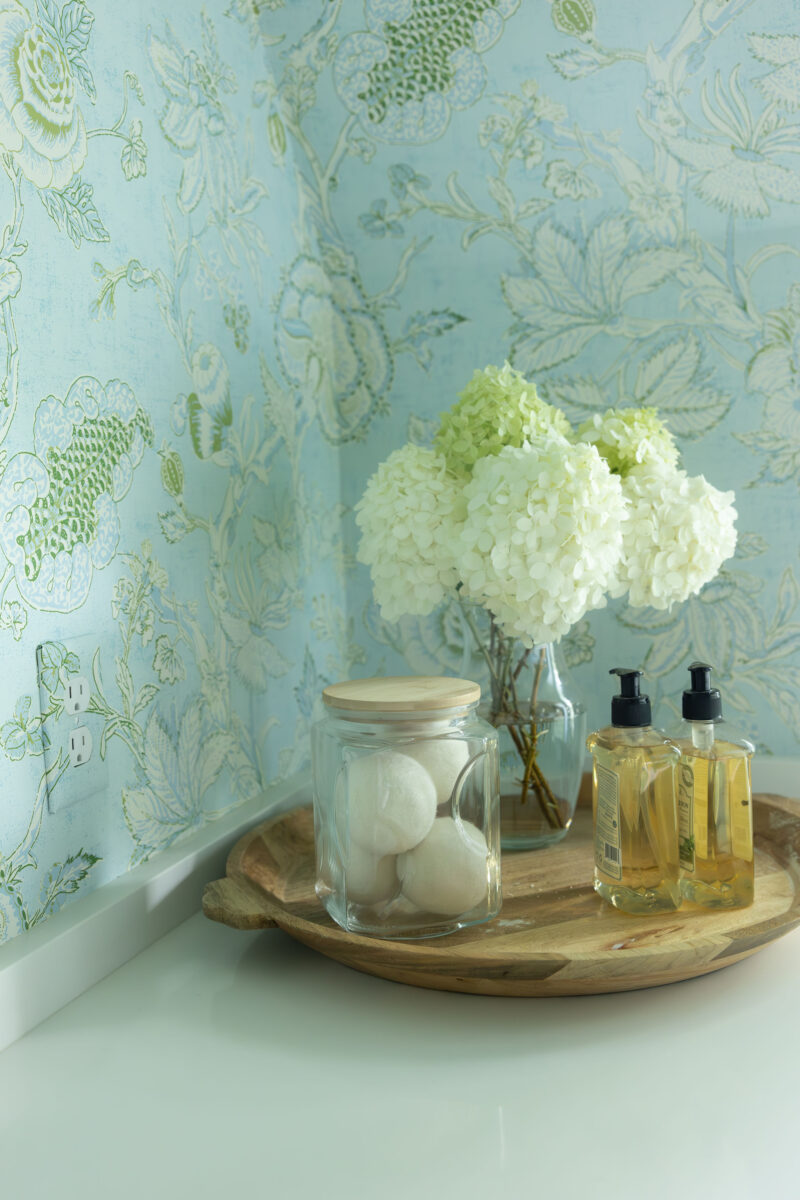 Blooming Powder Bathroom
Nestled under the stairs and near the homeowner's primary living spaces, this gorgeous powder bathroom is filled with so much charm and character. A powder bathroom is a perfect place to infuse bold patterns, wallpaper, colors, and palettes outside of your normal design comfort zone. Fitting with the classic style of the home, Lydia selected pink, purple, and yellow floral wallpaper for this space.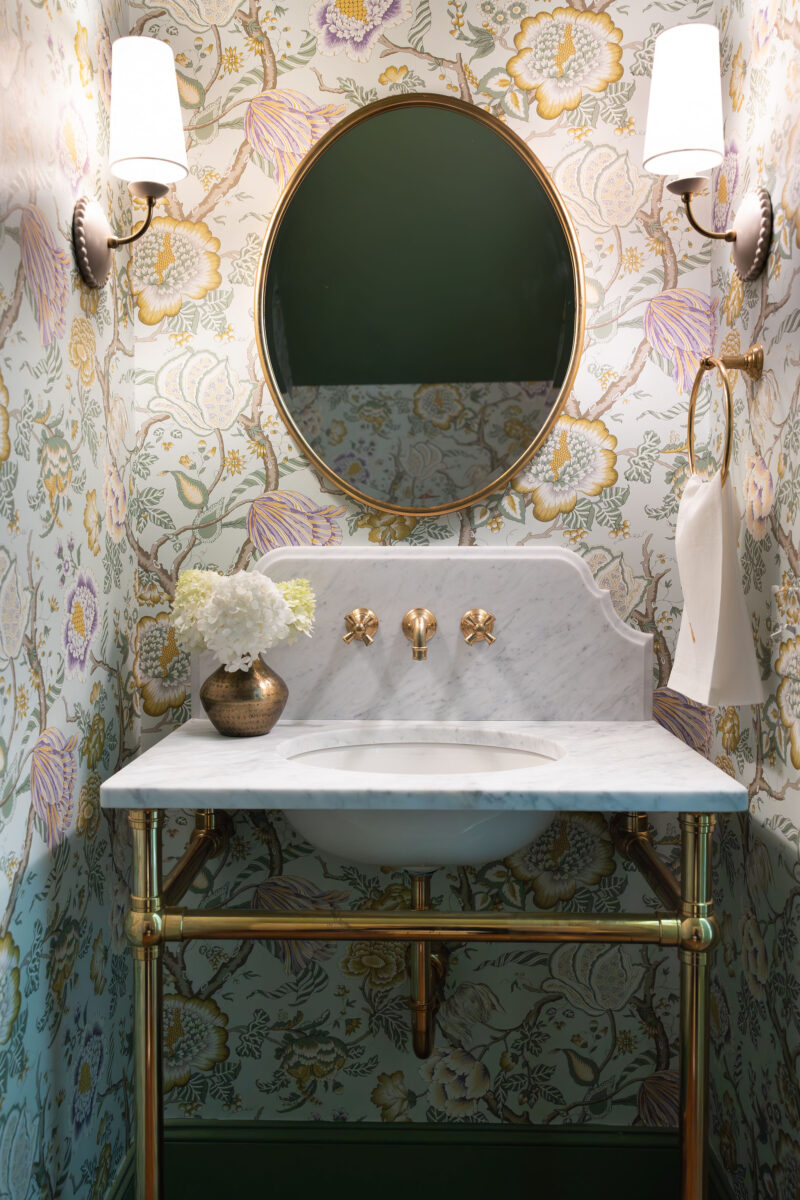 Mirroring other spaces and design selections, we opted to use polished brass faucets and finishes for this small but bright space. Lastly, we installed a marble countertop with a custom scalloped backsplash for added elegance.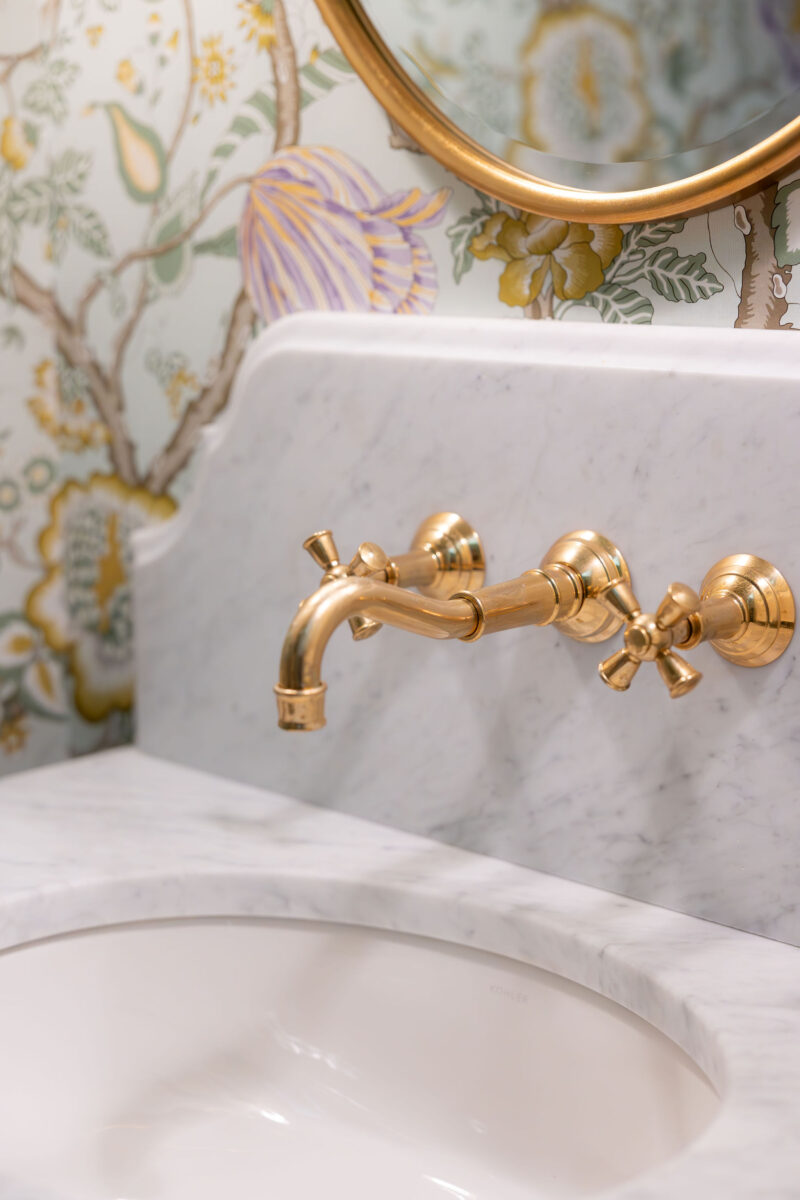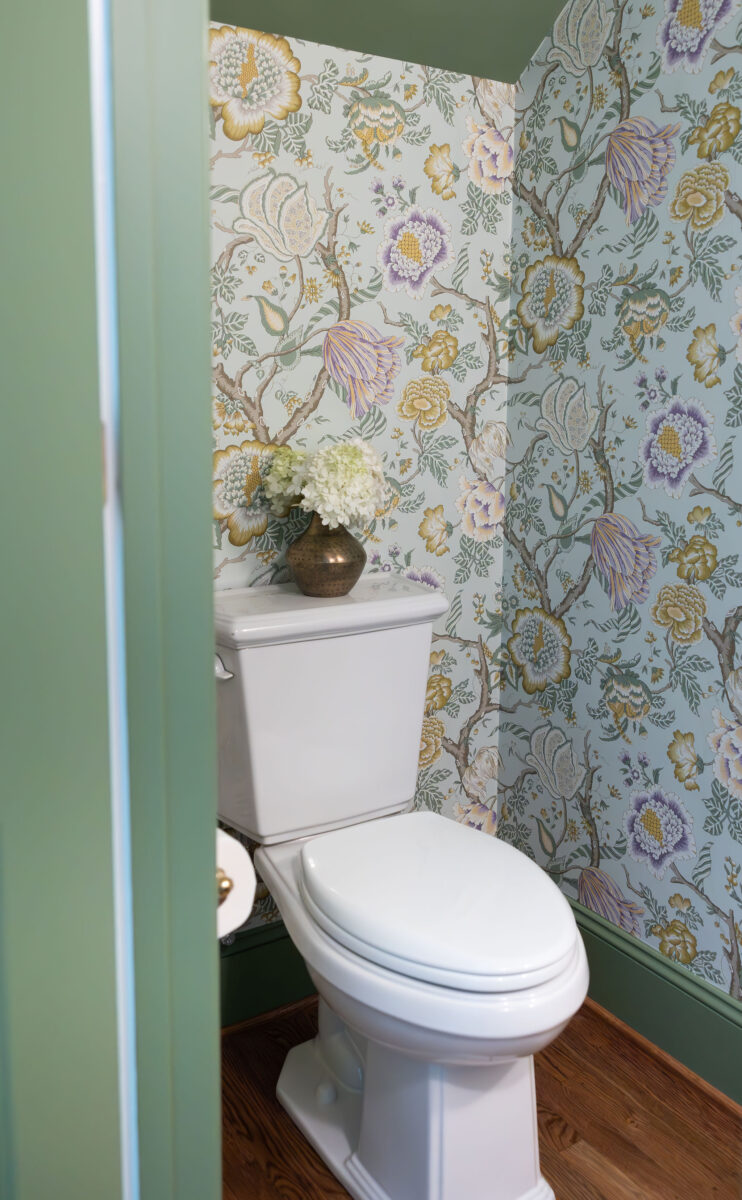 From the classic warm wood cabinets of the primary bathroom to the charming green wallpaper and cabinets in the laundry room, this Edgewood home exudes timeless qualities. Interested in seeing the full gallery? Check out the full home tour here!