When the client asked to keep the existing footprint of the home, Twin designer, Laurie Fulkerson, knew the design challenge needed to be met with long-lasting integrity and an eye for seamless design.
Featured Designer: Laurie Fulkerson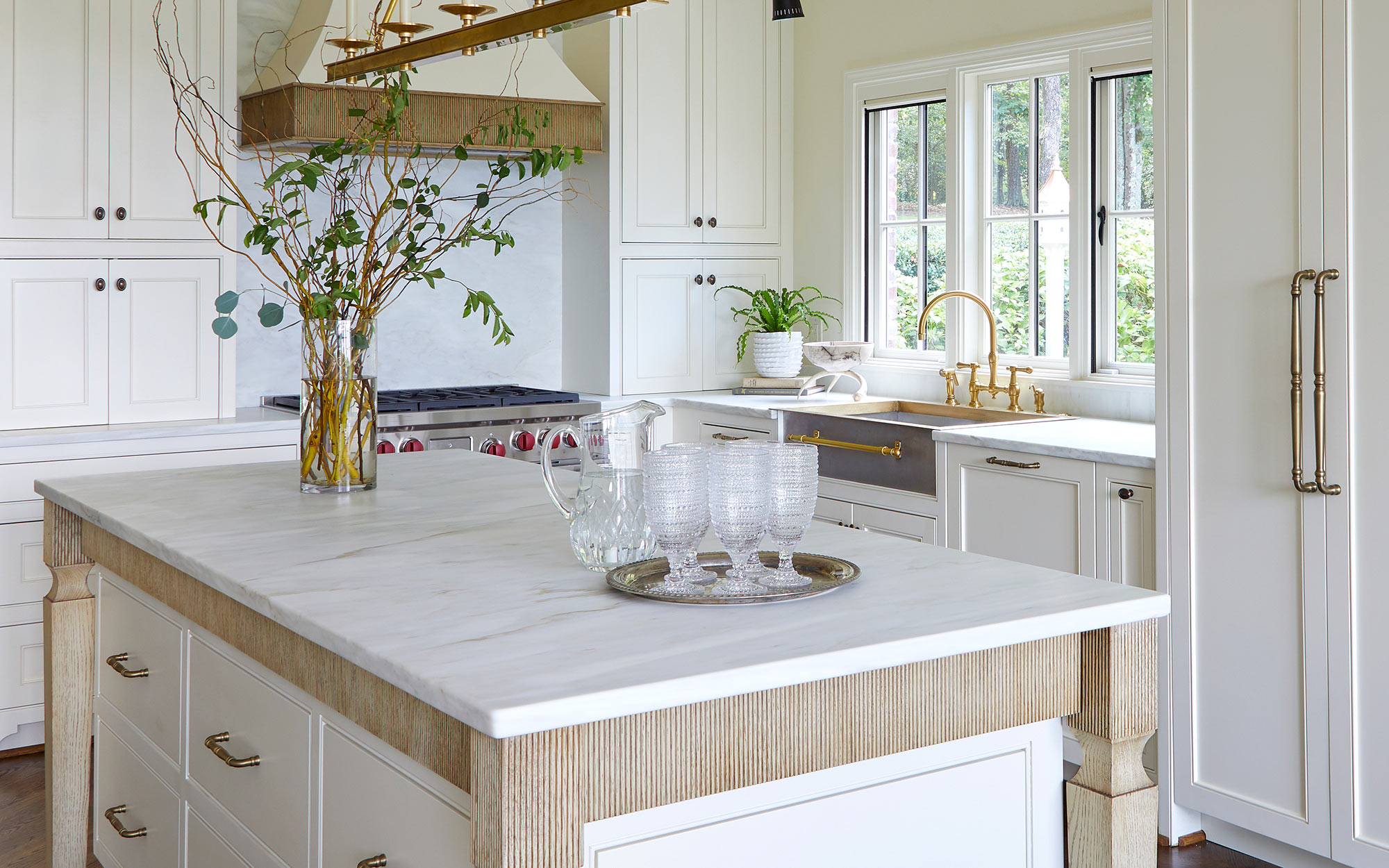 To keep the flow with the family room, yet allowing the spotlight to be on the kitchen, she introduced Benjamin Moore "Linen White" to both rooms. Laurie added elements of texture, such as honed Cream Nuvolatta marble countertops, dark herringbone floors, contrasting black lighting, and an apron style sink with brass trimmings. An addition of white oak custom cabinetry, wood reed island cabinet borders, and brass hardware helped balance the warm and timeless feel in the home. Lastly they decided to top off the contrast of the stainless steel fridge and other appliances with paneled doors and cabinetry to pull the scene together.
Entertaining Elegance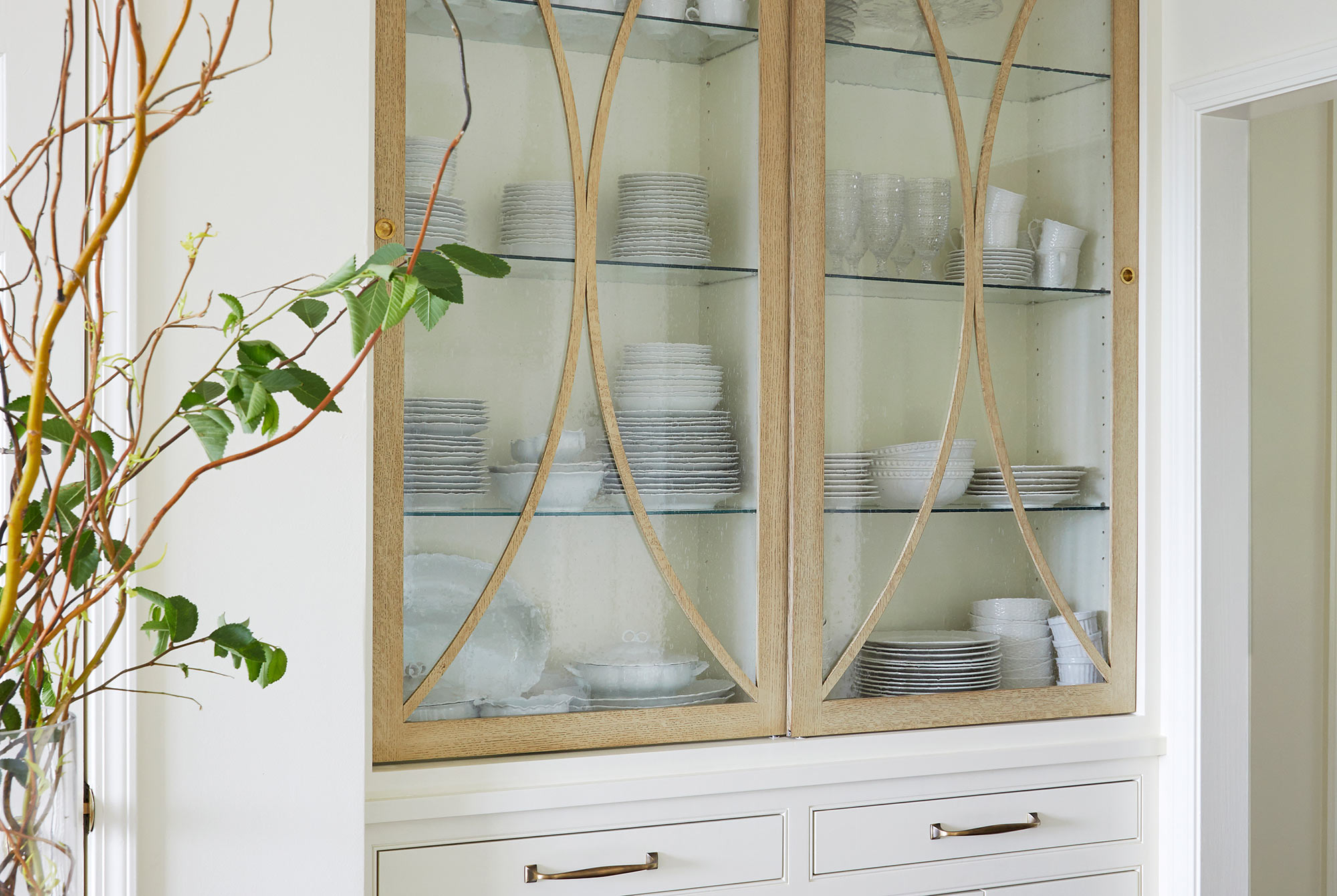 The client knew she wanted the cabinet that displays her beautiful glassware to be emphasized in the overall kitchen design. She envisioned a piece of furniture, so Laurie designed a unique mixed-material cabinet with custom sliding doors instead of the usual swinging doors. This provided a beautiful display of her treasures, while adding more function to the space. The client was thrilled with the outcome of this practical, yet unique sliding door addition.
Room with a View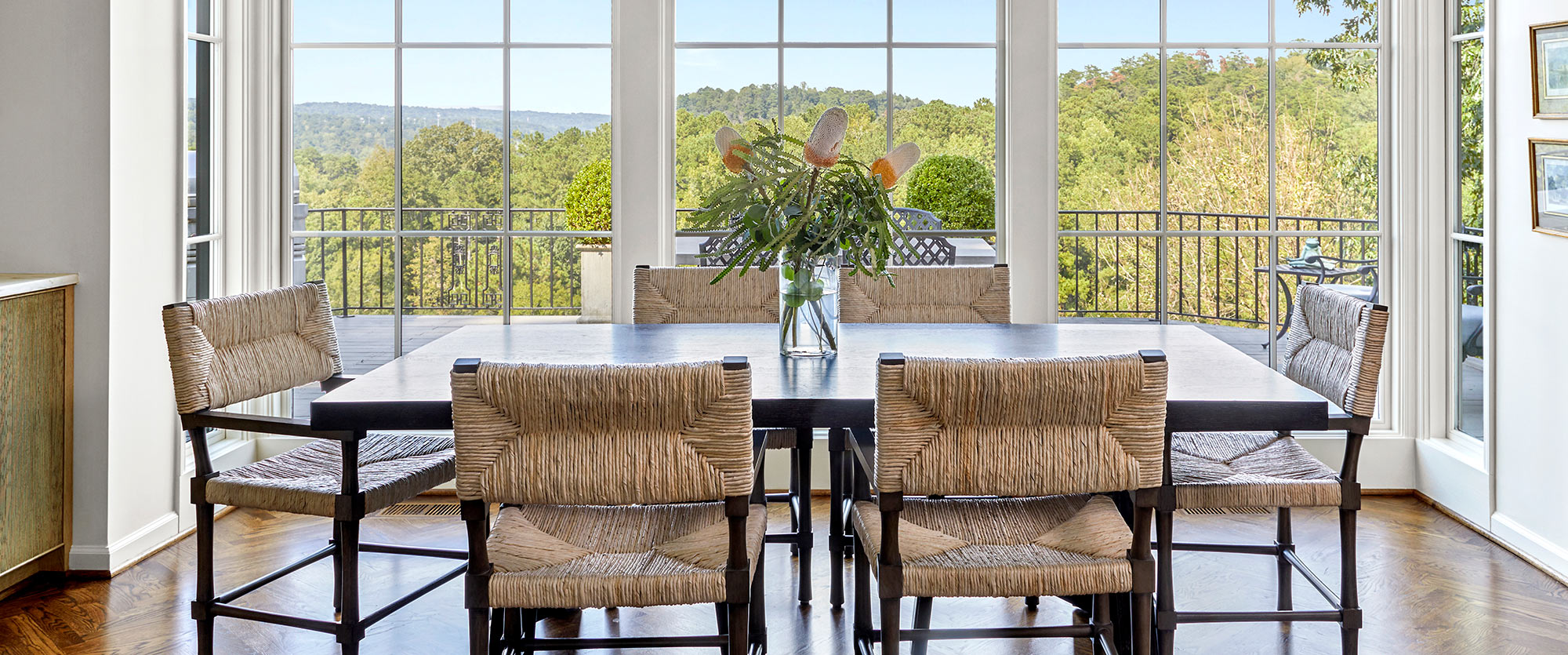 The previous wall space hid the expansive view from the back of her home. To maximize this feature, a wall of windows was added to the kitchen and was accompanied by a breakfast table. No stools or seating were included with the island. This intentional decision directs guests to the incredible view of nature that is provided by the seats and conversation at the breakfast table.
Playing with Pattern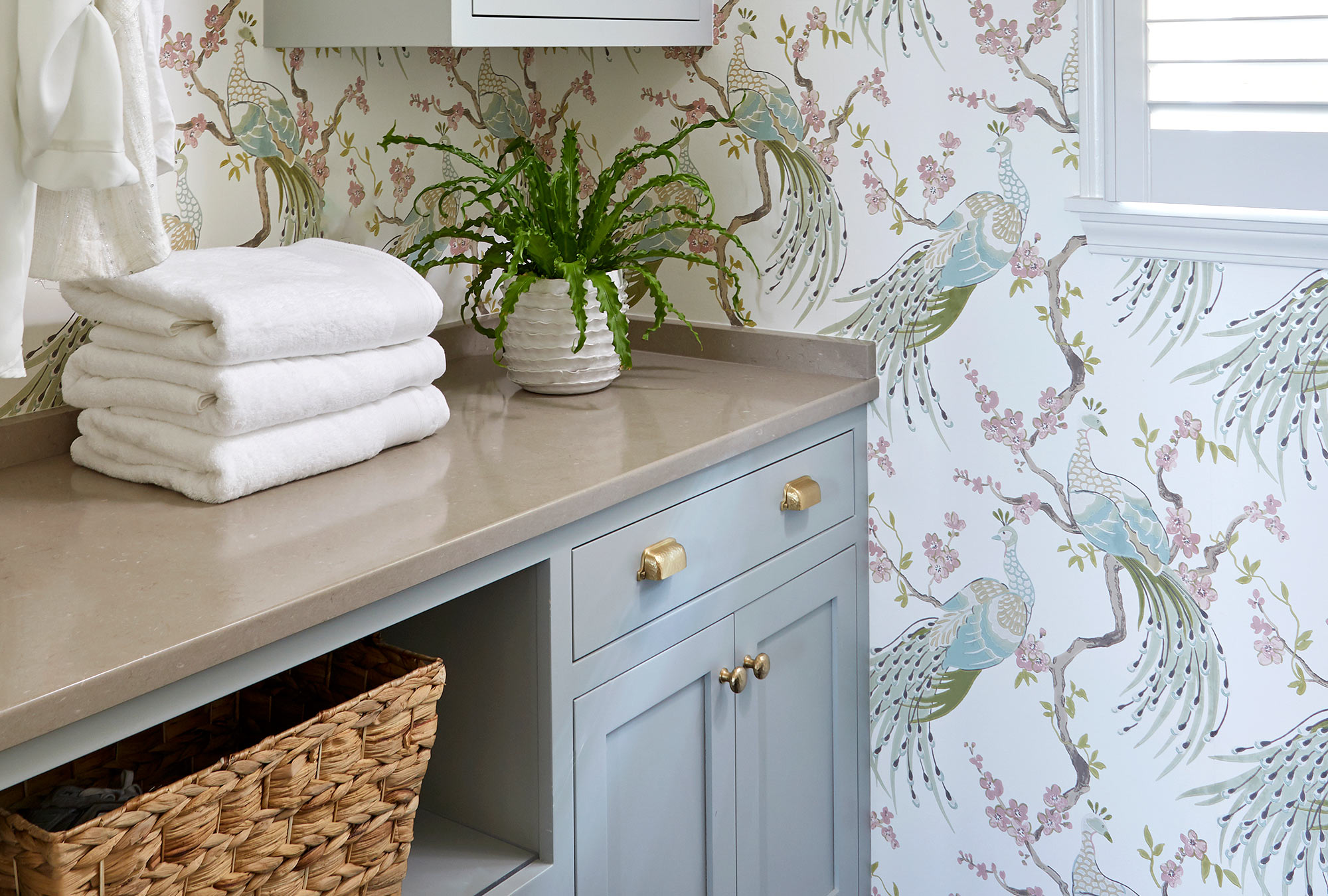 Many clients are apprehensive about the use of wallpaper but Laurie loves to add this touch with customer approval. She was thrilled when the homeowner agreed to use it in 3 spaces – the powder room, laundry room, and walk-in-pantry. As you can imagine, a mother of 3 boys spends lots of time in the laundry room. Laurie worked with the client to find the perfect wallpaper, with brushes of pink, to add a feminine flare and make it more personalized for the owner's taste. This room was finished off with a quartz countertop, for easy maintenance, blue cabinetry, brass hardware, and a charcoal tile hexagon floor.
Creativity combined with quality allowed us to finish this project with all expectations met by the client and our team. The added touches by our designer and vendors brought even more ageless character and charm that will continue to add life to this home for decades to come.
Gallery
View before and after photos of this project.
Featured Vendors
Brandino Brass – Cabinet Hardware
Texas Lightsmith – Kitchen Sink
Ferguson – Plumbing
AllSouth – Appliances
Parsons Cabinetry – Cabinetry
Surface 1 – Countertops
Twin Interiors – Lighting