If the pandemic has taught us one thing, it's how to manage a work from home schedule. This revelation has driven many of our clients to incorporate inviting workspaces into their homes. See below for a few inspirations of our recent home office projects.
Paperwork Placement

This client wanted a small home office in the entryway area of their home. We packed a lot into this small space by including a contrasting glass doorway, custom file drawers on the left, and a printer tucked into the cabinet on the right. We even installed a roll out platform for the printer so it could be easily accessed. Surface1 topped off the look with a dapper stone desktop.
Dramatic Desktop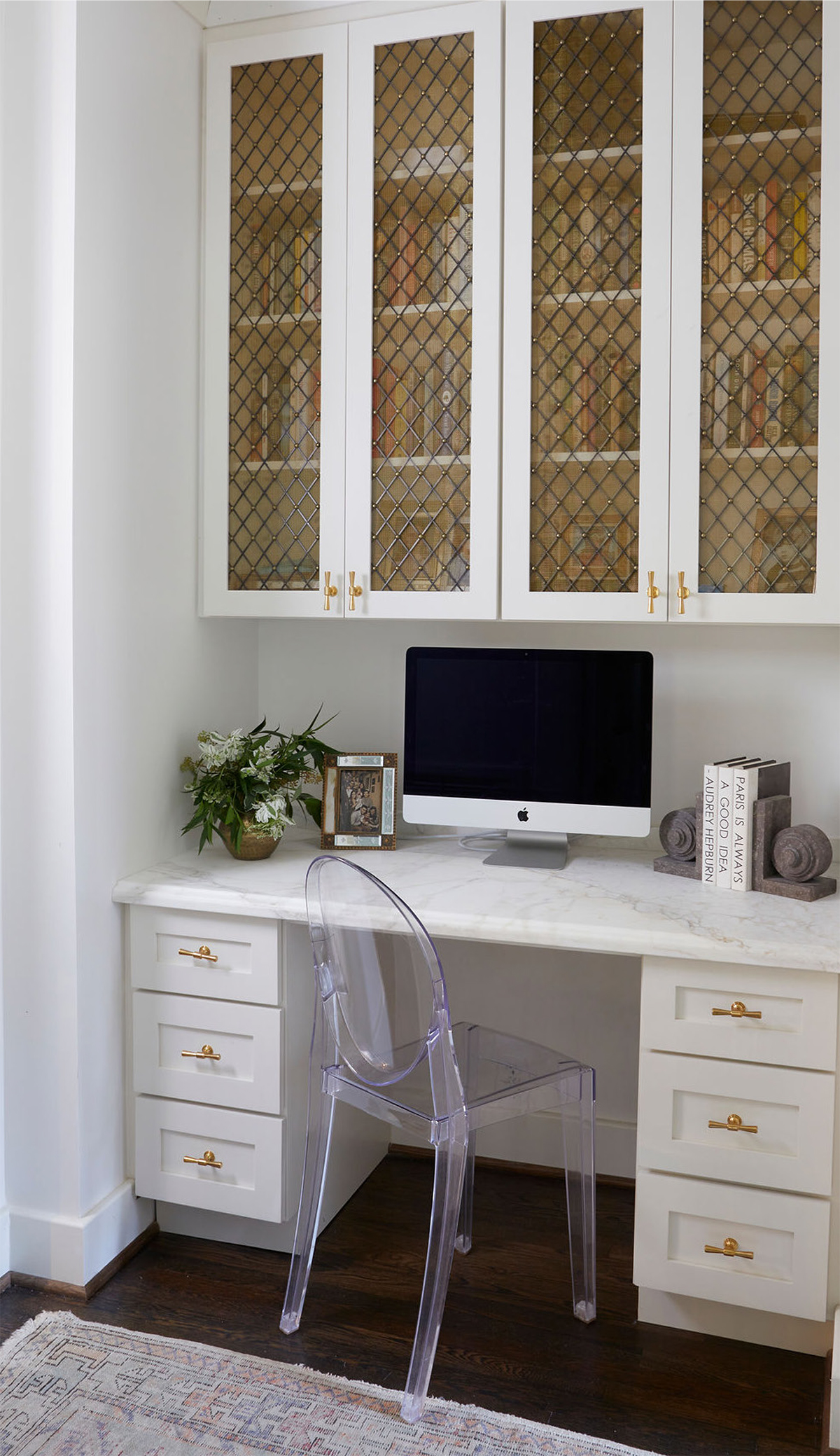 Since this desk was right off of a main living space and powder room, our Twin designers helped this client create a gorgeous space surrounding a built in desk. The workspace area includes copper and iron decorative inserts for the upper doors, gold door handles from Brandino Brass, and an elegant marble by Surface1 to top it off.
Sophisticated Study

For this project, our Twin Interior designers converted the former dining room into a dedicated home office space. Since this is the first room you see when you walk into the home, they wanted to make sure it was fully furnished with rich colors and textures. Who wouldn't want to work in this space?
Showcase of Shelves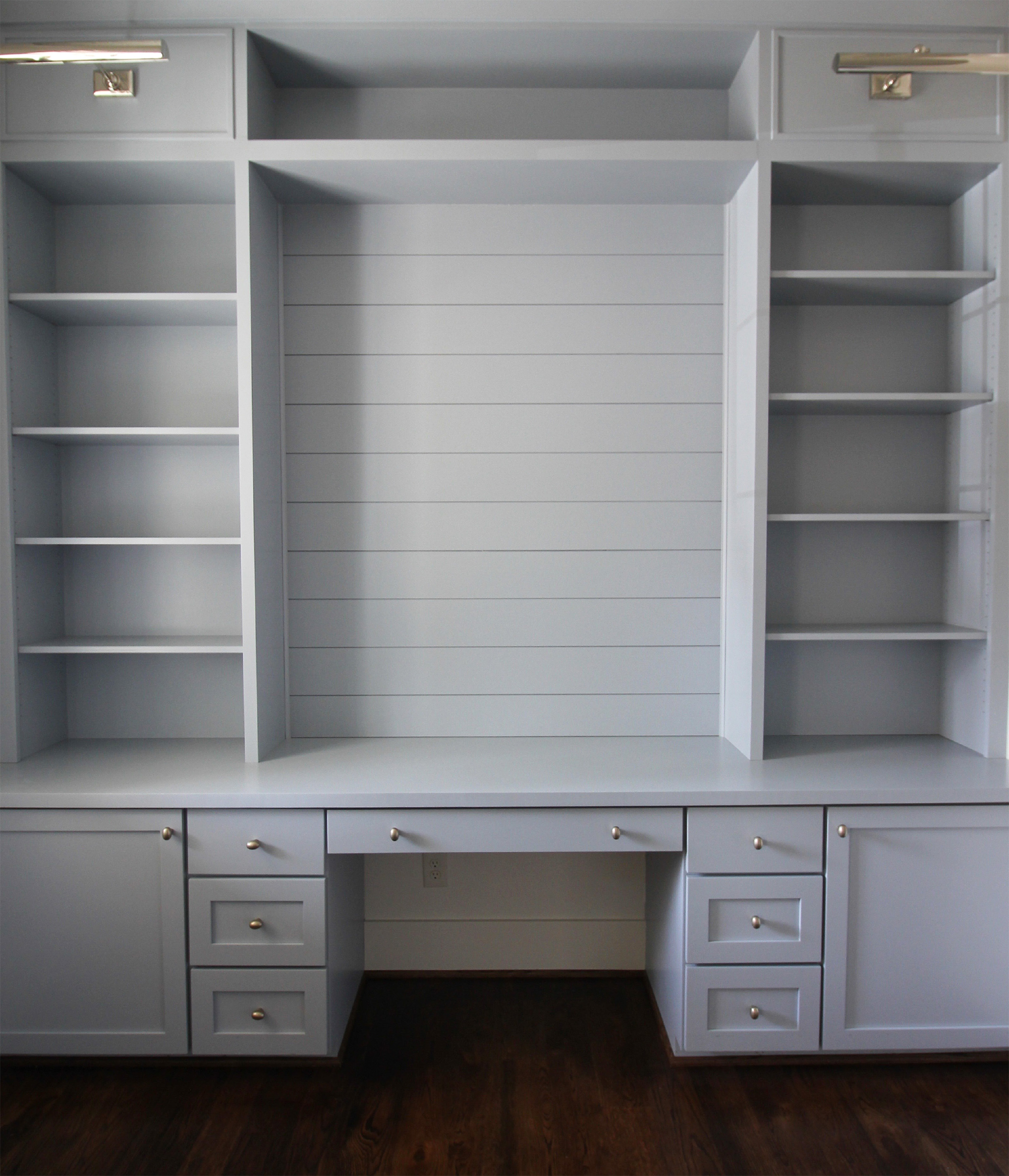 This client requested built-in bookshelves to be incorporated into the desk design. They sought the help of the experts in the Twin Cabinets division. Sleek lighting was installed at the top of the built-in to highlight the shelves. Once filled, the client can customize the ample space for both work efficiency and personalization.
Work then Play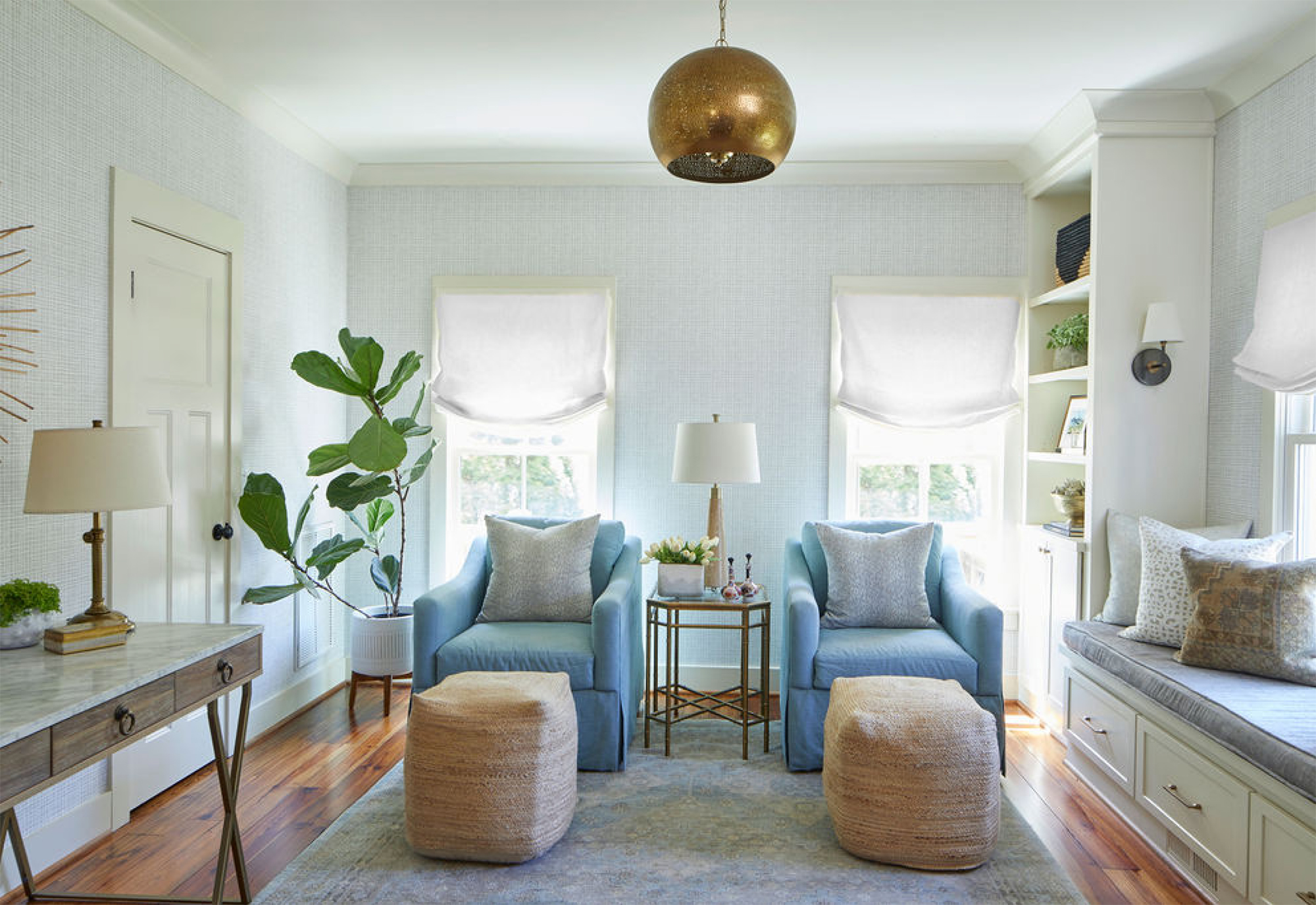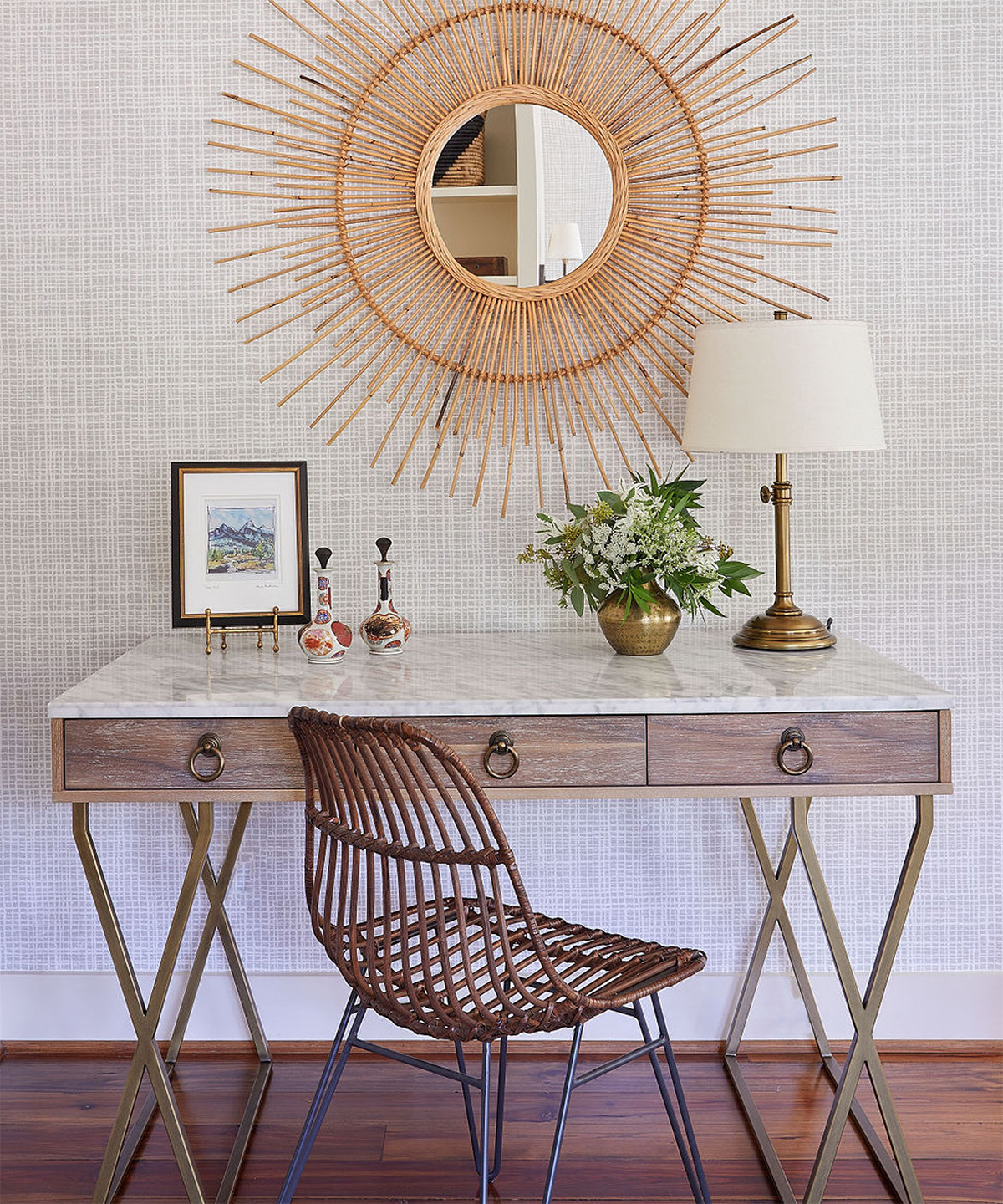 This multi-use home office hosts a pair of comfy chairs for meetings, a window bench for curling up and reading, and a free standing desk for homework and bill paying. The built-ins beside the window hide a roll-out for a printer. Twin Interiors left their personal touch with the brass lighting, rattan mirror, and mixed-material writing desk.
Productive Entryway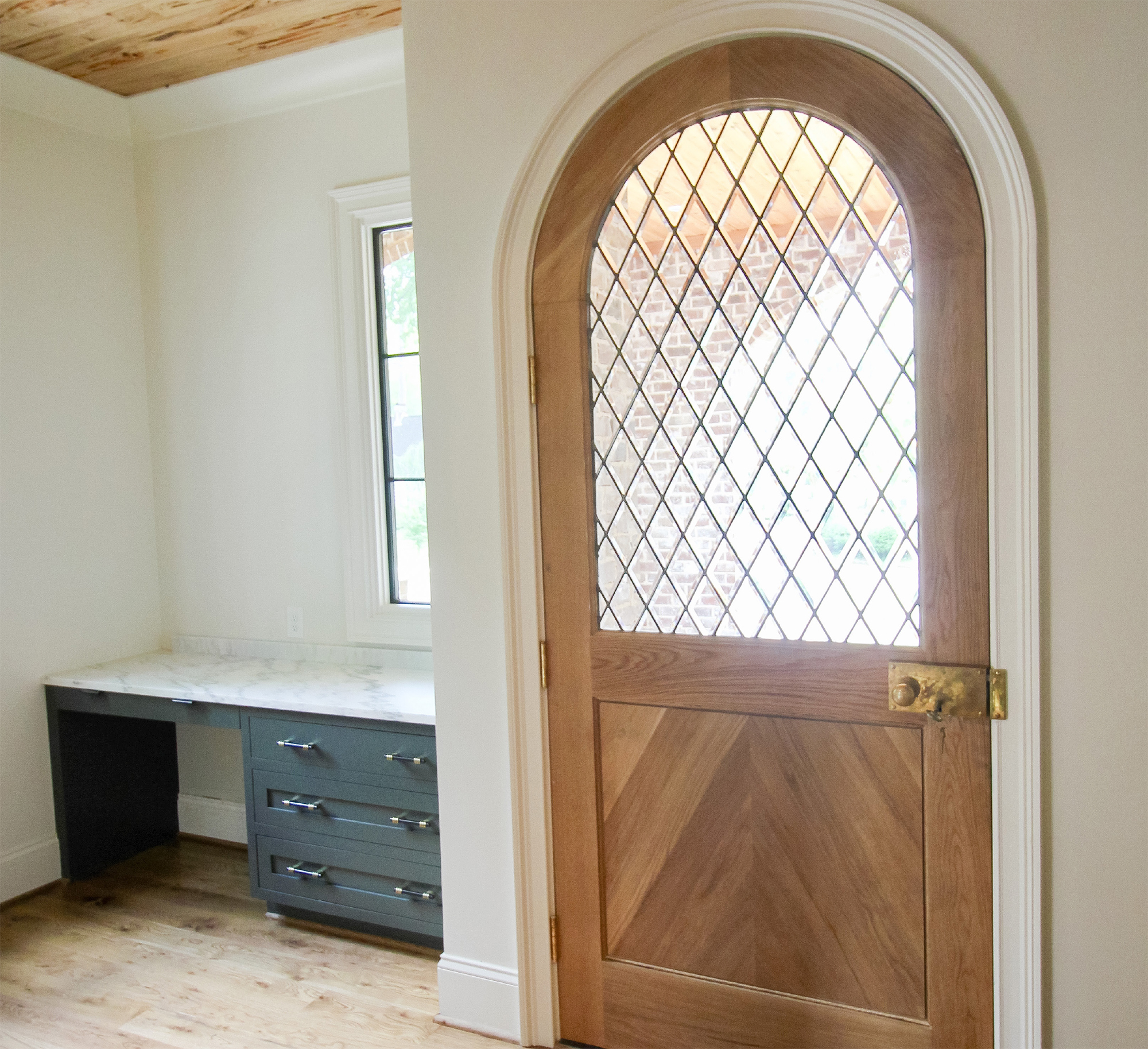 This homeowner wanted a convenient desk where they could sort mail or write a letter. This desk, staged right off the entryway, is a perfect spot to drop the mail and keep it organized. The custom drawers by Twin Cabinets can hold the stamps and envelopes so the homeowners can get bills paid and letters written with ease.
See some ideas that you would like to incorporate? Contact our Twin designers to get started on customizing your work-from-home space.