Featured Designer: Laurie Fulkerson
When walking into a home, you will notice the main mood-setter…lighting. This one element has the ability to pull all other details of a room together. When making selections you must decide your style and the best source of light. Will you choose pendants, wall-mounted fixtures, lamps, or recessed lighting? Making lighting decisions can be an overwhelming task but our designers are here to help narrow down selections in order to create the perfect ambiance and balance for your room.
Electric Elegance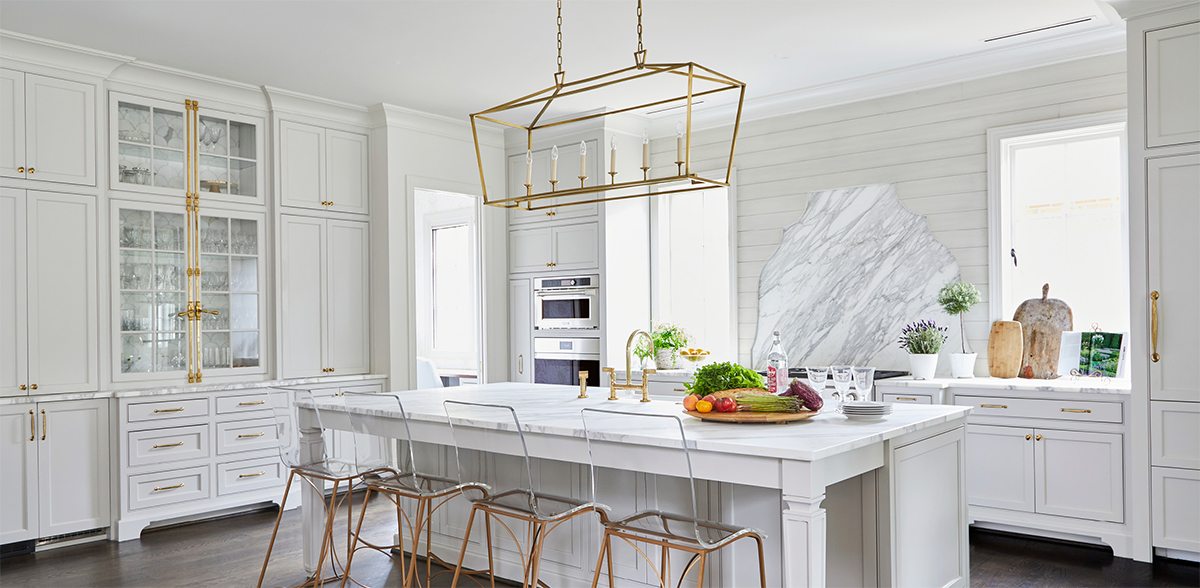 The simple, yet refined lantern above helps to create a subtle focal point above this island. The kitchen has an airy and open concept so our designer, Laurie, chose this linear box pendant to bring the gold elements together strategically complimenting the beauty contained in the marble and ship-lap.
Custom Canopy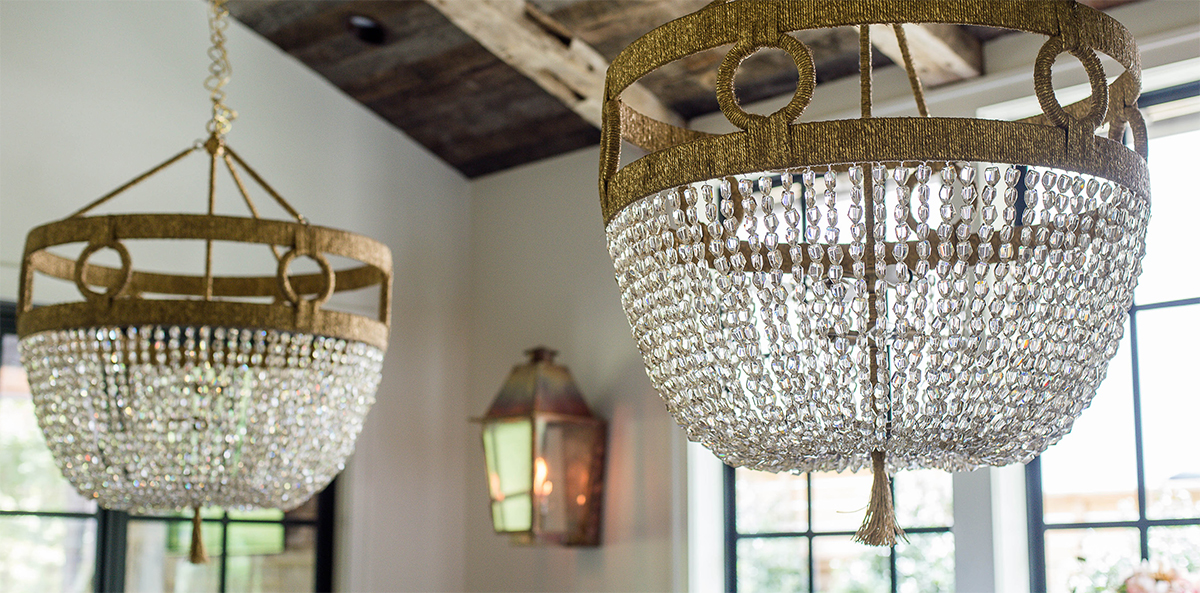 Some clients choose to make big impact with their lighting. As you see in this photo, the client worked with Laurie to have custom lights built to provide stylish texture in this room. These chandeliers are available in a variety of colors, beads, and ropes. You can choose wooden beads to create a boho look, colored beads to go more vibrant, or a striking, retro look with a crystal and gold combo, as shown here.
Brilliant Balance
Laurie loves these classic sconces so she placed them flanking each side of this vanity mirror. These lamp-shade fixtures provide a flattering facial light at this height and is the perfect placement for a bathroom mirror.
Illuminating Lanterns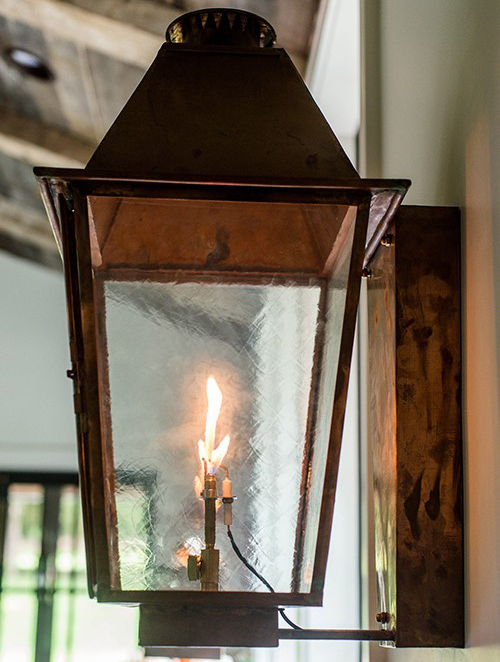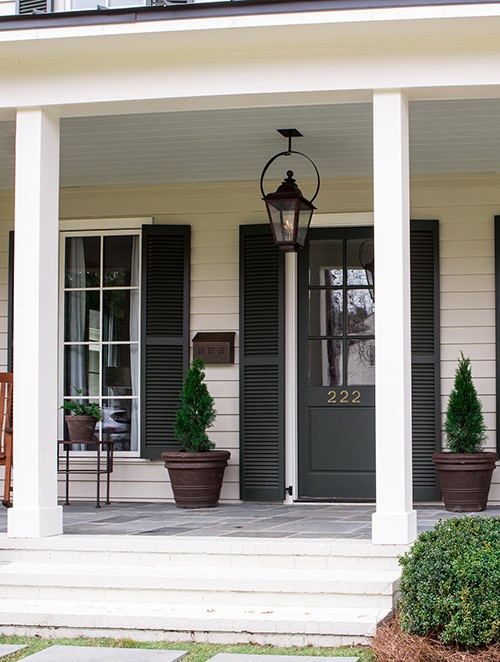 Some choose to include gas lighting in the interior of their home as shown in the photo above. Once approved by several code requirements, Laurie placed this bronze fixture on an interior wall to add focal charm and layers to the contrasting wooden ceilings.
For a subtle glow, Laurie suggests the light of a gas lantern. This wrought iron single lamp gives way to a low-lit flicker for porch sitting or guiding guest past the steps and on to the door.
Sconce Splendor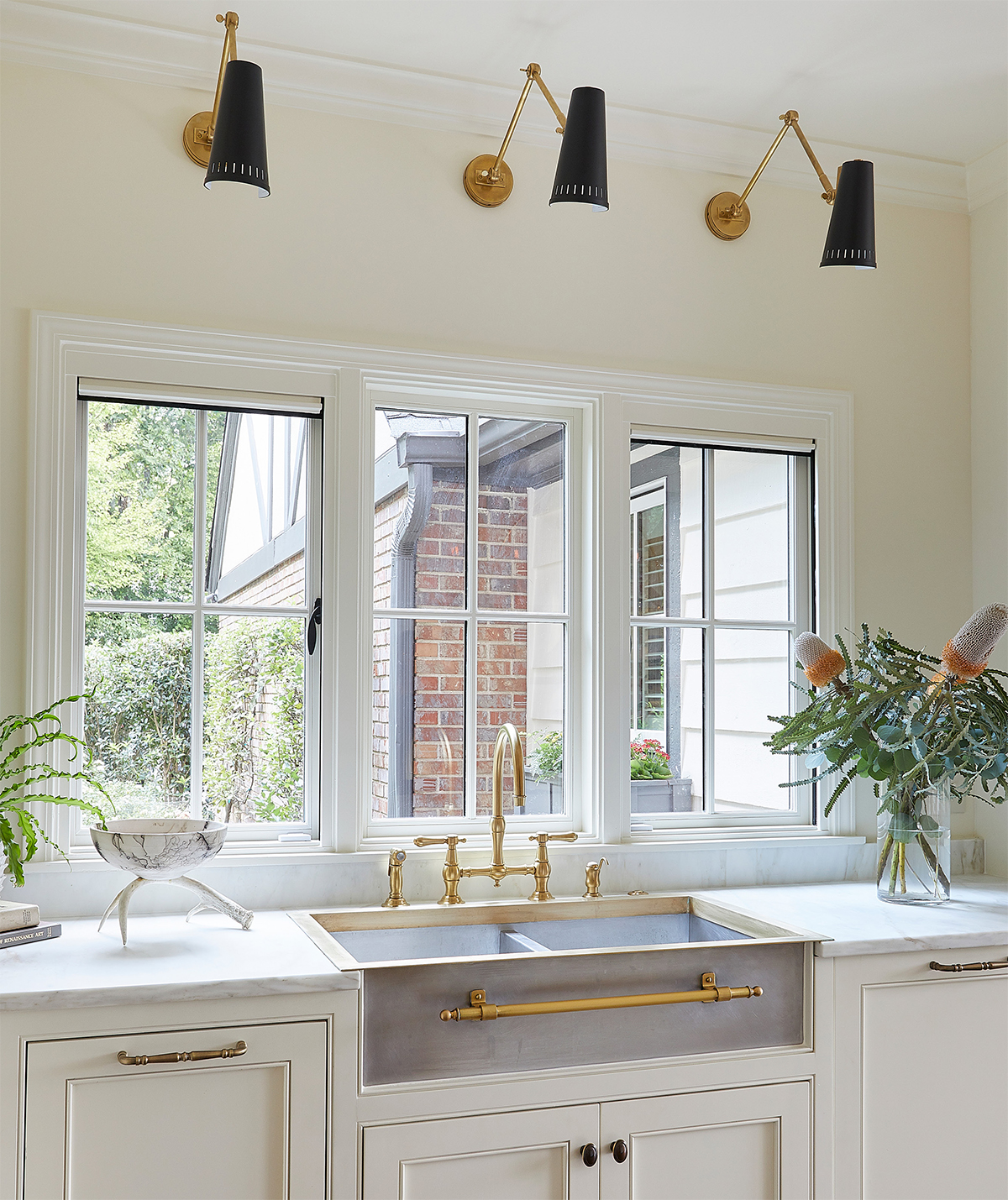 These modern sconces, chosen by Laurie, are placed over the windows in the kitchen to create a stylish contrast and centerpiece. This type of pendant lighting in a kitchen creates the perfect glimmer when pouring up wine glasses and entertaining guest.
Let our designers lead you through all of your lighting decisions to create a flawless brilliance in your home.