Lowe's Creative Ideas
January/February 2008
> Download Article (1.34 MB PDF)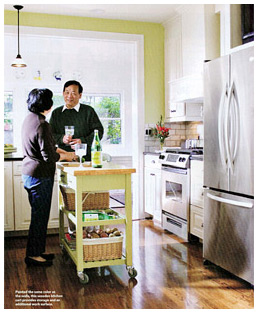 Now that their youngest child has graduated from college, the homeowners finally have the time and resources to bring their dream kitchen to life. They always hoped to change the inefficient layout and outdated elements in the room and longed for an elegant space to accommodate their changing needs. Thanks to a complete overhaul, the dream has blossomed into a beautiful kitchen that's easy to navigate and easy on the eyes.
The makeover scores high on looks – furniture-style cabinetry, black engineered quartz countertops, and a marble backsplash – but functionality is the real star. The reconfigured floor plan untangles an awkward knot of appliances to yield an efficient work triangle. A wall between the kitchen and adjacent sunroom was removed, making plenty of space for a casual sitting area and a peninsula for a small breakfast bar. The homeowners had an additional layer of concrete poured on the sunroom's floor in order to bring it flush with the existing hardwood floors in the kitchen – creating a smooth transition.
These days the kitchen is the showplace of the house, and the couple couldn't be more thrilled with its classic style and user-friendly nature. "We got everything on our wish list, for now and for later," says one of the homeowners. "We're looking forward to a lot of happy years here."
What They Did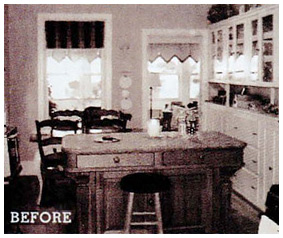 The Challenge: An unwieldy floor plan made the kitchen inadequate for family gatherings and impractical for future use. Outdated appliances and cabinetry, mismatched finishes, and timeworn surfaces detracted from its appearance.
The Solution: A revamped layout and the removal of a wall between the kitchen and sunroom make the space airier and the workflow much more fluid. New cabinetry, hardworking appliances and countertops, plus task lighting and ergonomic fixtures, elevate the kitchen's style and functionality.
Finishing Touches:
Round beveled knobs and classic easy-to-grasp cup pulls wear a dark pewter finish that echoes the black countertops.
A pullout kitchen faucet lets the user channel water to any spot in or near the sink, and the water sprays with the touch of a button. The faucet also has a single-lever handle, which is easy to use for anyone, including those with limited hand strength.
Smart Solutions
Good design and ease of use are natural partners, and today's trends show an increasing overlap between the two. Consider these tips to bridge form and function in your kitchen and other rooms for design that will last.
Proper Lighting. Layered lighting that provides sufficient illumination can reduce eyestrain. In this kitchen, recessed lights in the ceiling brighten the overall space; under-cabinet and pendant fixtures direct task lighting where it's needed.
Sleek Surfaces. Besides possessing timeless appeal, hardwood floors are easier to traverse than bumpier surfaces such as tile and stone – especially for those who need assistance. Low or zero thresholds also are key. Here, the adjacent sunroom's concrete floor is flush with the kitchen floor.
Right Height. A dishwasher raised to waist height allows the homeowners to load and unload it without bending over. Elevating appliances above floor level makes them easier to operate, but requires careful planning. Because they'll sit higher than the countertop and cabinets, allow for another element above, such as cabinetry or a microwave oven.
Ready Access. When buying kitchen appliances, choose side-by-side or French door-style refrigerators, and look for ranges and dishwashers with front mounted controls. These options better serve family members who need to work while seated, such as in a wheelchair.
Functional Faucets. A single-lever faucet requires minimal hand strength and is considered an ergonomic feature. Installing a pot filler near the range eliminates the need to carry heavy pots of water from the sink.