As a designer, one of my favorite things is going to the stone yard and selecting slabs that are eventually fabricated into beautiful countertops. There are so many countertop materials available, homeowners often say it's confusing when trying to pick the perfect one! I have listed the most common materials used today, along with their unique advantages and disadvantages. Hopefully, this will help you make the perfect choice when it comes time to build or remodel your kitchen or bath. Choosing the best countertop for your project is a big deal and you should take time to consider the best material for you and your lifestyle. The right choice will update your style, enhance entertaining, improve function, provide years of enjoyment and add significant value to your home.
Marble
Marble offers a classic look that never goes out of style and adds elegance to a kitchen. It is a natural stone and is available in a wide range of colors and patterns, making it an attractive option for homeowners. The material can be polished or honed depending on the finish you prefer. These countertops are made from slabs of marble, and the variations of veining give each piece a distinct appearance. While the stone is highly resistant to heat, cracks, and breakage, it is also extremely porous. As a result, prolonged exposure to acidic items such as lemon juice and tomato sauce can enhance the staining and scratching of the surface. The acid will etch marble, leaving a dull, whitish mark where it has slightly eaten away at the surface. To help protect your beautiful countertop, marble must be sealed regularly as it naturally tends to be more susceptible to scratches. If you are prepared to care for your marble countertops, they can be a beautiful, functional choice that lasts a lifetime.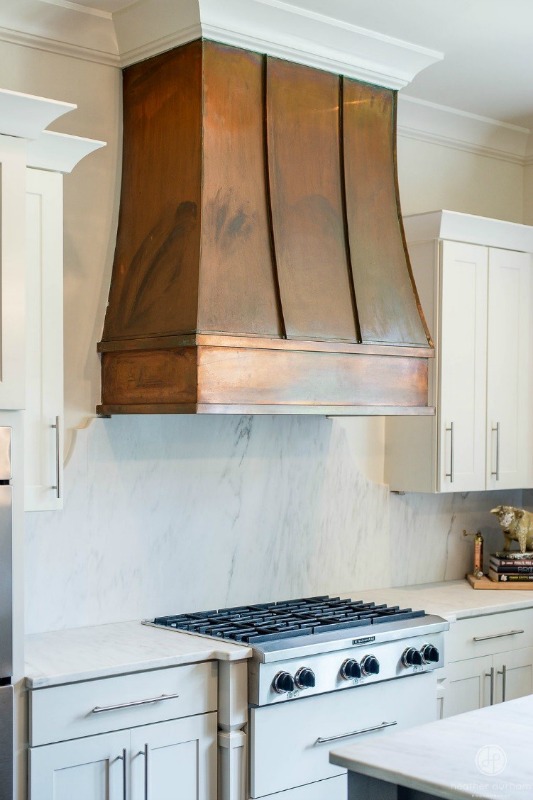 Granite
In the design world, we don't use as much granite as we once did. However, black granite is still being used frequently. When mixed with marble, granite offers versatility, toughness, and a sleek look. Though it showcases the beauty of natural stone, it is stain-resistant and requires minimal maintenance. To keep your countertops looking good, a sealant should be applied yearly. When properly sealed, it's one of the most durable options out there. Unsealed granite can absorb stains such as oil, which can ultimately cause dark spots or discoloration.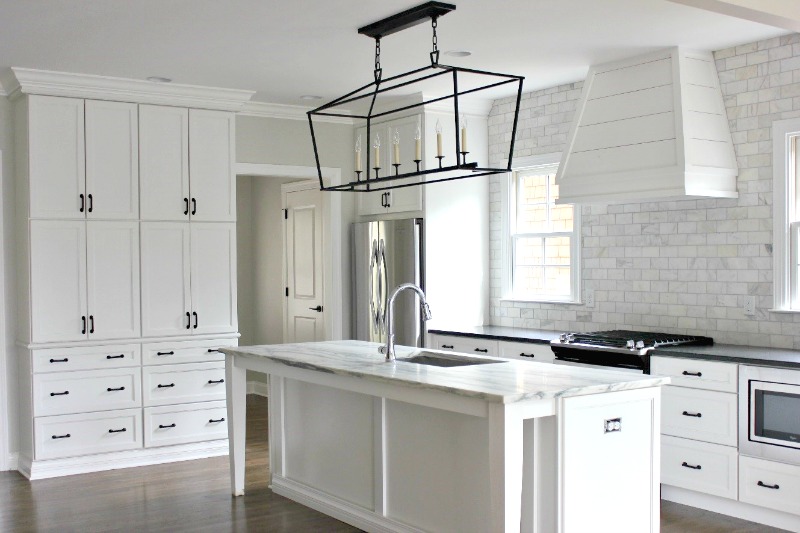 Butcher Block
Want a warm, homey look in your kitchen? Then a wood countertop may be the right choice for you. Butcher block is often used on islands as an accent. Most homeowners choose to mix wood countertops with other surfaces like natural or engineered stone to provide a variety of prep surfaces. When properly sealed and cleaned, wood countertops can be sanitary enough for chopping meat. Another bonus is that butcher block is highly heat-resistant, so you don't have to worry about putting hot pots and pans on the surface. In order to avoid scratches, I would recommend a monthly oil sealing. If you miss a couple, these countertops can be sanded down and refinished easily to remove the unwanted stains or scratches. While most commonly made from maple, butcher block is also available in many other wood species.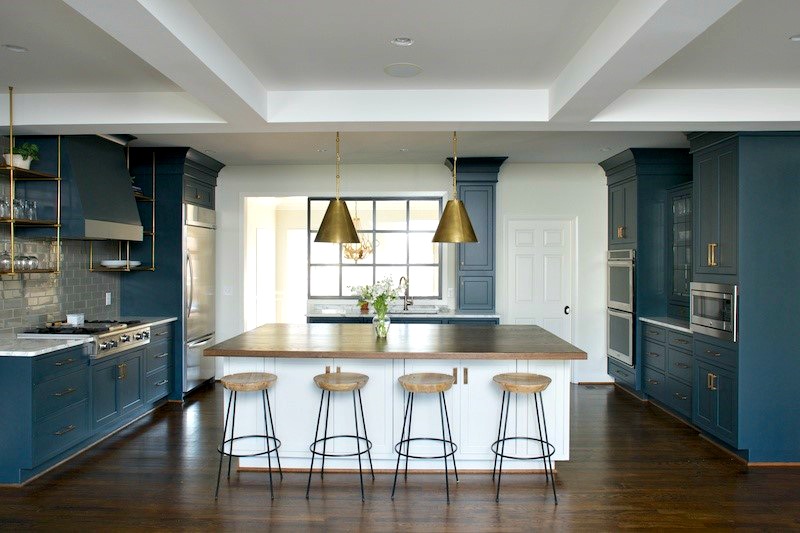 Design: Marianne Strong Interiors
Soapstone
Soapstone has a matte finish and transitions easily from traditional to contemporary settings. Highly stain and bacteria resistant, soapstone is a non-porous natural stone that's available in a range of gray tones from light to dark, all with subtle veining. It is heat-resistant and does not readily absorb stains (although you should wipe spills quickly to be safe). Soapstone is soft and can be scratched rather easily, but imperfections may fade gradually or can be sanded out. Please note that light soapstone colors will weather over time and develop a darker and, occasionally uneven, patina which may or may not suit your color scheme. Unlike other natural stones, soapstone doesn't require yearly sealing. However, regular applications of mineral oil several times a year will help minimize the appearance of wear, tear and cracking. Given the unique pattern and shade of each piece, soapstone countertops may be difficult to replace if there are damages or cracks on the surface.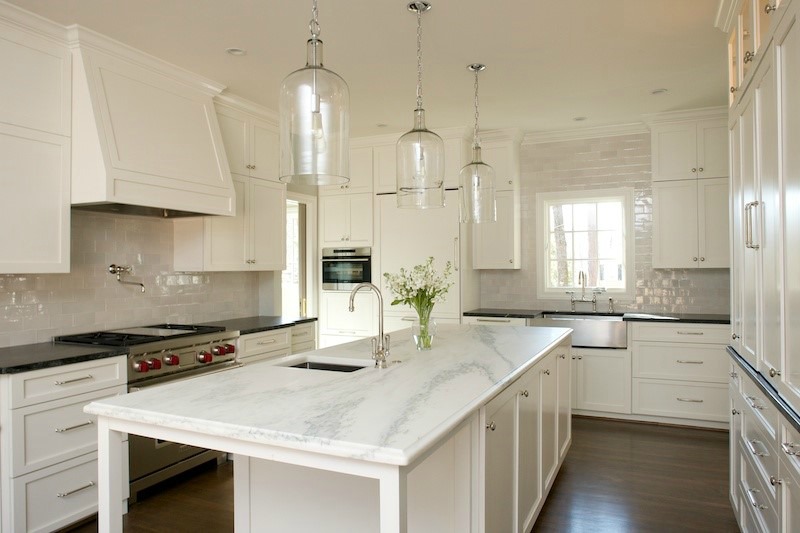 Quartz
Quartz countertops are made from an engineered composite of ground quartz, resin and pigment. The result is an extremely durable material. Practically maintenance free, engineered quartz countertops are stain, acid, scratch, heat and impact resistant and, thanks to their non-porous surface, they don't need to be sealed like natural stone countertops. If you're looking for more color and design options, engineered quartz might be the right fit for you. It comes in just about every shade imaginable and now even mimics marble. The most common brand names are Caesarstone, Silestone, Cambria and MSI stone.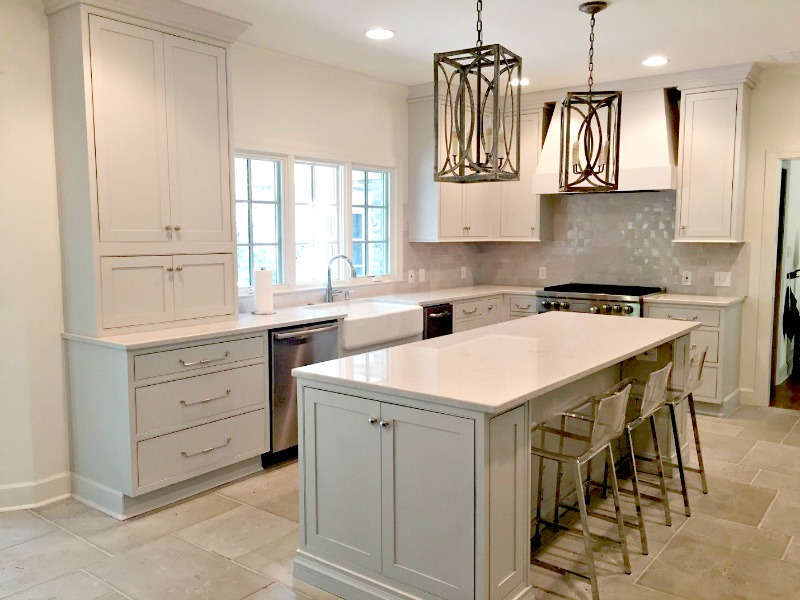 There is no right or wrong way to go when deciding which one of these materials to use. With so many options, we encourage our clients to pick the one that is right for their family, both functionally and aesthetically!
By Danielle Schriefer, Interior Designer
Unless otherwise noted, all design and cabinet work was done through Twin Interiors and Twin Cabinets.