Birmingham Home & Garden
March/April 2012
By Cathy Still McGowin
A blend of contemporary and classic refreshes a tired historic home.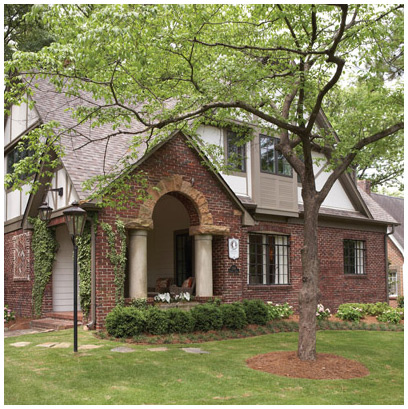 For Katy and Brandon Bishop, house hunting was a straightforward endeavor. They knew exactly what they wanted and where they wanted it. Finding their historic Tudor-style home in the Hollywood area of Homewood was simply a matter of waiting for the right real estate to become available. "We love the character of the older homes—the style, the history, the charm," Katy says. "We looked for six months, then saw a 'Coming Soon' sign in front of a 1925 Tudor on the street we wanted."
Though the Bishops knew the house needed considerable work, they still moved forward. "We talked to architects and builders and found out we could make it work for our family of five," Katy says.
Adding a second story, Twin Construction converted the three-bedroom, two-bath cottage into a five-bedroom, three-bath home. For the interior décor, the Bishops worked with Jan Ware of Ware Designs.