Birmingham Magazine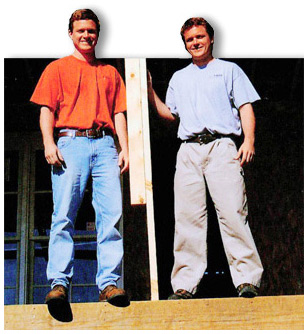 You can't get far in Homewood without running into a sign for Twin Construction, which is owned and run by twin brothers William and David Siegel. Construction-business prodigies at 25, the brothers have remodeled and expanded several homes in Homewood and Vestavia, achieving remarkable name recognition in just two short years.
The twins, originally from Atlanta, both earned civil engineering degrees at Auburn University. After graduation, David went to work for an Atlanta firm specializing in residential renovation, but before long decided to start his own business in Birmingham. William, then working for Southern Company, already lived here. "William was about to renovate his kitchen, so I knew I had a little bit of work to get started over here," David explains. "He let me sleep on his sofa while I worked on his house." David named his fledgling business Twin Construction – though it was only one twin at first. William joined him in the business in January.
Part of the twins' strategy is to concentrate jobs within small areas, so they can manage several at once. It also gives their business good visibility in the neighborhoods while they work.  Williams and David Siegel
They also invest their own money to buy, remodel and resell houses in the Homewood area. The twins say they don't turn much of a profit doing that, but it allows them to test the waters with new contractors while continuing to get their name out. "People see us and our trucks around all the time," William says. "They know we're not going to go anywhere, which helps with the confidence factor."
The Siegels stress the "confidence factor" because they suspect people are wary of contractors. "Construction just has such a bad name," David says. "As soon as they think of renovating their house, people automatically think there's a contractor waiting to take them to the cleaners." Encouraging homeowners to talk to other contractors before making a decision, the twins say their bids tend to be lower than average because they have low overhead and make it their goal to win every job they bid on.
William says he and his brother aren't trying to get rich, anyway – just make a living doing what they enjoy. "If I can support a family," he says, "We're good to go."