Meet Thomas…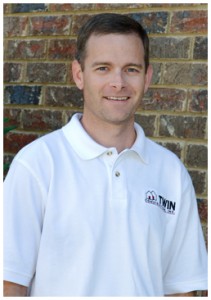 Thomas….a man of few words, a person of great mystery, an estimator of many costs. Thomas Picardy is Twin's Vice President of Estimating and is the man behind the man behind the numbers. Most of his co-workers ask "What would Thomas do?" on a daily basis when trying to make decisions in both social and work life. So…we simply asked him the following questions:
1. What is your favorite movie? Gladiator
2. What one word is fun to say? WarEagle! (It's one word, trust me)
3. What's your favorite trip you have ever taken? New York City with my wife, before the kiddos!
4. What is your favorite Olympic sport? Any of the fast sprints – on the track, in the pool, on the ice, doesn't matter.
5. What kind of music makes you want to get up and sing? All the silly pop songs my 7 year old daughter likes. Sometimes you just got to let it go and shake it off!
6. What is your favorite hobby? Crossfit
7. Who are your two biggest heros? My dad and my wife, hands down. Both get medals, one for putting up with me as a kid, one for putting up with me as an adult
8. What is your favorite childhood game? BB Gun Wars – 5 pump max!
9. What is something you do every day? Pray
10. If you could be an expert on any subject, what would it be? If "expert" implies knowledge and skill, then I would say parenting.