Portico
By Barry Wise Smith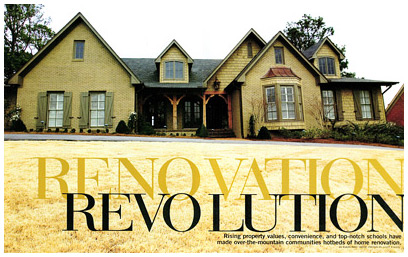 Rising property values, convenience, and top-notch schools have made over-the-mountain communities hotbeds of home renovation.
Drive down almost any street in Homewood or Crestline, and you'll see a home renovation project under way. Builder signs and industrial dumpsters have become commonplace landscape elements in many over-the-mountain front yards. Driven by low lending rates, quality schools, convenient locations, and popular television shows such as Extreme Makeover: Home Edition and HGTV's Generation Renovation, people are choosing to stay in their homes and renovate rather than buy new homes and  move.
Double Vision
Growing up in Vestavia Hills, Nina Haas Daniels loved the panoramic views from her parents' home. When she married and started a family, she approached her parents' longtime next-door neighbors and told them she was interested in buying the house- if they ever decided to sell. When the neighbors eventually decided to downsize, Nina and her husband David jumped at the chance to own the home. "We bought the house because we loved the views," Nina says.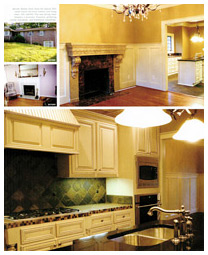 After living in the house for almost a year, Nina realized some changes were necessary to accommodate her family of five, including three young daughters. Nina enlisted architect Debbie Simmons and builders David and William Siegel of Twin Construction to develop and execute a plan to renovate the home. "Since I was a little girl I've loved older houses," Nina says. "There's something fun about redoing something."
By August 2003 the plans were ready, and the renovation began. The first, and most outwardly visible change, was raising the existing roofline to give the house more presence from the street. By Nina's request, and for cost-saving reasons, the roof was not completely removed.
Inside, Twin reconfigured the main living space to maximize the spectacular views from the rear of the house. They removed a large stone fireplace from the back wall of the family room and replaced it with floor-to-ceiling windows that revealed scenic vistas and flooded the room with natural light. In the kitchen, several walls were removed to create a large open area with an abundance of cabinets and counter space. A 10-foot-long center island provides additional storage and casual seating for guests.
The master bedroom and bathroom were redesigned, and a formal living room was converted into a bedroom and bathroom for one of the Daniels' three daughters. A largely unfinished basement was given gleaming hardwood floors and finished to include an extra bedroom and bathroom, a study, a spacious playroom, and a large living area that features a pool table and copper counter wet bar. The Daniels are thrilled with the results. "We absolutely love it," Nina says.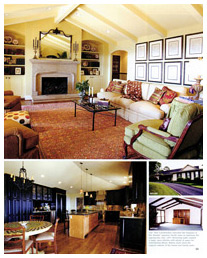 The Siegels, identical twin brothers who started their company three years ago, have seen a surge in large renovation projects and in their business. They attribute the trend to "growth in Birmingham and people wanting to be close to downtown."
The brothers, who both live in Homewood and do a majority of their work there, decided when they started to "find a niche market where we can continue to work our whole lives, build those relationships, live in the area, and see people in the grocery store and say hello," says William. David agrees, "We make sure to treat every homeowner like our neighbor."
The philosophy has worked as the business started by David-he was joined a year later by William- has grown almost exclusively through word-of-mouth from happy homeowners. White the brothers handle different job responsibilities- William does accounting, estimates, invoices, and bookkeeping while David covers on-site project management- they both enjoy the work. "We bring excitement to our work," says William. "We really love what we're doing."