Hi! It's Laurie with Twin Interiors again. When it comes to choosing bedding for a room many people panic and do not even know where to start. My style is to keep it simple, classic and timeless. But the most important rule for me is to make sure it is comfortable and inviting. After all, they say humans spend around 3,000 hours in bed each year!
#1. The Basics
Below is an illustration of some bedding basics. These include Euro shams, Standard shams, pillowcases, accent pillows, a flat sheet, coverlet / quilt / comforter, duvet cover, fitted sheet and bed skirt. You do not have to have every piece on your bed. Some prefer not to have a duvet cover, accent pillows or a bed skirt. What, not a bed skirt you ask?! If your bed has side rails (and I am not talking about the side rail of your metal bed frame) then you do not have to have a bed skirt. Show off those pretty details as seen below.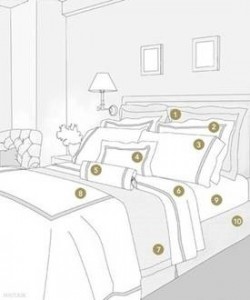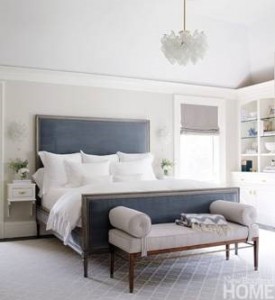 photo credit: www.matouk.com
TIP: Buy the best sheets you can afford, it took me a while to take my own advice. But when I did, it is a luxury I treat myself to when I get into bed each night! Also, you may want to keep your basics pretty neutral. This stuff is not cheap and you are less likely to tire of a neutral coverlet that might have cost more than your parent's first car! You can always add some color and pattern with your pillows.
#2. Pillow Arranging
Now that you have decided on your covers and sheets, it is time to decide on your pillows. If you like a lot of pillows on your bed, skip this paragraph and go to #3 because you will not like what I have to say. I do not like a lot of pillows on the beds I design or my very own. Guess where they will end up most of the time? You are right, ON THE FLOOR! I feel pretty strongly about this especially in kid rooms! When clients take my advice, they are glad they did!
So my favorite look to do in designing bedding for a client is to keep it simple, but do it with a statement. I usually use Euro shams in the back and love to pull a unique fabric that is the "WOW" on the bed for the accent pillow on the front. So check your local fabric store for a fabric that you love and have a pillow made to place in the front.
#3. For Pillow Lovers Only
I won't leave you out because I know you are out there! So I've included a guideline to help you with all of that pillow arranging you love to do every morning! (I am impressed!)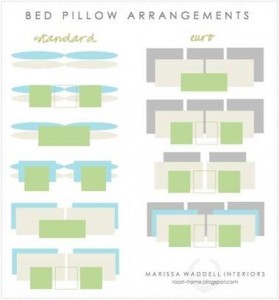 photo credit: www.roost-home.blogspot.com
#4. Kid's Bedding
I love to do kid's rooms! There are so many neat and unique things to do in their rooms now. But as we all know, they change their mind like the wind. That sweet 5 year old who LOVES pink this year, will decide in about a year that she now LOVES lime green! So keep it simple with the bedskirt, coverlet and the sheets, but have some pillows made in that fabric she loves (for now!). I've included some favorite inspiration pictures that I have saved for my younger clients.
BEST ADVICE I EVER TOOK: If you are planning on putting 2 twin beds in your child's room, BUT have room to put 2 full / queen beds instead, then do it! Those extra sleeping spots will come in handy for sleep overs. And there is not a huge price difference in twin vs. full size bedding. I did this for my youngest child and it was one of the best things I did in her room. (You are welcome!)
I try to follow Mom's rule and make our bed every day, but I am human and I don't want to be late for work! But when I do, it makes me just feel better leaving my room and makes me excited to curl back in at the end of a long day!