Hi! It's Lauren, one of the cabinet designers, here at Twin! Hopefully, this blog will help you make the most of the "insides" of your cabinets. The kitchen is certainly the heart of the home and your cabinets can be one of the biggest features. BUT cabinets are not just for looks, they have come a long way in allowing them to make the most of your storage. Here at Twin, we love to give you the glamorous magazine look in your new kitchen, but also like to take it a step further. We like customizing your space to fit your family and meet the needs of how you use it on a daily basis.
Some of my favorite storage items I like showing off…
Pull Out Trash
A full height pull out cabinet is the perfect hiding spot for your trash. It keeps the trash out of the way while making it easily accessible and keeps the kitchen looking classy.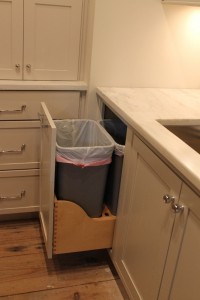 Tray Dividers
We all know that piles of trays cause a stressful night in the kitchen. The tray dividers make the most of small spaces and reduce the stress level drastically. Useful tip: Add one for cooking trays and a separate one next to your sink for cutting boards.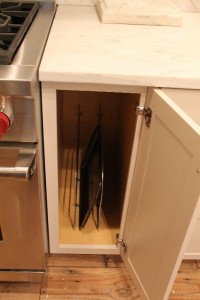 Roll Out Trays
These baby shelves help you get the most out of your deep storage space. Now your pantry and cookware items won't get lost in the back of your cabinets.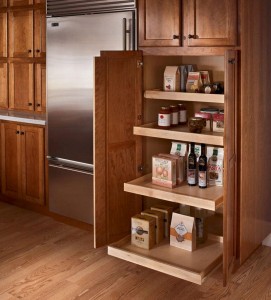 NEW TREND ALERT!!
Pull Out Vertical Utensil Storage
This helps keep large utensils organized and prevents them from getting tangled up in drawers (win, win if you're asking me). This storage accessory originated to help keep all of your styling items organized in your bathroom and is still the perfect piece for that as well!
My favorite of them all…
The Appliance Garage
The appliance garage creates a dramatic look by having your cabinets stacked from the countertop to the ceiling, giving you the perfect hiding spot for that morning cup of coffee!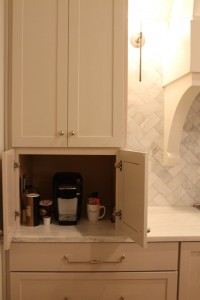 This list was only my top favorites, there are SO many more to choose from. If you are looking to make the most of your kitchen from the inside out, make an appointment with us at Twin! We can help you create the perfect space that fits you to a "T"!