Hi, it's Crystal Tucker here! I'm one of Twin's cabinet designers here on staff. Have you ever wondered how to make the most out of the space you have in your kitchen? I have a few tips to help not only organize your space but help with the flow of your design!
A place for everything, and everything in it's place is a good motto for your kitchen! It's one thing to have lots of cabinet space, but it's another for that cabinet space to be thoughtfully planned out according to your specific needs in the kitchen. Not long ago, I heard the term "Mess equals stress". No truer words could be spoken for the most populated room in your home! When working with your cabinet designer, talk through your everyday routine in the kitchen so they can pick up on key pieces of information to use to create the most effective layout for your family. Plan for that extensive collection of spices that you access daily, or your mounds of small appliances that could clutter up those beautiful countertops you labored over when pulling together your palette. I think we all have that dreaded "catch all" space that could easily be avoided if we identified what those items are, and create a solution in the planning stages. Below is an example of how one of our homeowners, who loves to cook, planned well for her large array of spices that are used on a daily basis.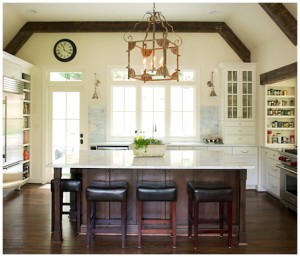 Are you currently in a kitchen that just doesn't seem to flow? Let me introduce you to the work triangle, which is defined by the National Kitchen & Bath Association as an imaginary line connecting all the major work stations (sink, fridge, range). Efficiency is the triangle's main goal. Who doesn't love efficiency? It keeps the three areas in close proximity to the cook, without placing them so close that the kitchen becomes cramped. See NKBA Guidelines for recommended distances between appliances to ensure the most efficient layout. The triangle is also designed to minimize traffic within the kitchen so the cook isn't interrupted or interfered with. Those of you who have kids definitely know the chaos that comes during prep for meal time. We all can appreciate a little less traffic because the LAST thing you want your kitchen to feel like is a giant hallway. To help visualize the work triangle, I've included a diagram (look below) referencing the work triangle.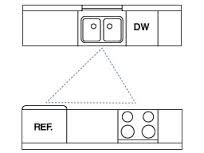 Hopefully these tips will help make the place people always seem to gather a little more organized and efficient allowing your cabinets to be placed in the perfect layout for your needs!