April 17, 2013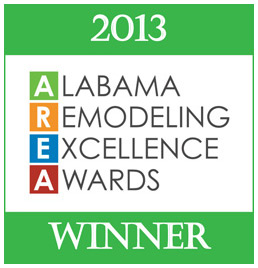 AREA 2013 WinnerMontgomery— A Birmingham-area remodeler has been honored with the highest award in the 2013 Alabama Remodeling Excellence Awards (AREA) competition. Twin Construction, Inc. received the coveted Best in Show award during the AREA banquet on Saturday, April 13 in Montgomery.
The Alabama Remodeling Excellence Awards, presented by the Home Builders Association of Alabama, were presented to remodelers, contractors, kitchen and bath designers, and other building professionals who exhibited outstanding craftsmanship and attention to detail in projects throughout Alabama. This year's competition was sponsored by Alabama Power Company, Alagasco, the Alabama Home Builders Self Insurers Fund, J.F. Day/Pella, and Kohler.
Awards were presented in a variety of categories, with the highest honor being the Best in Show Award. The Best in Show winner was selected from among the top five highest scoring entries in this year's competition. Twin Construction won the Best in Show award for the Garner Whole House Remodel project. The Garner project also won first place in the category of Whole House Remodel $250,000-$500,000.
Twin Construction also won third place in the Additions under $100,000 category for the Montgomery project, third place in the Basement Remodel for the Huffaker-McLaughlin project, and third place in the Residential Specialty category for the Moller project.
For more information about the Alabama Remodeling Excellence Awards, contact the Home Builders Association of Alabama at (800) 745-4222. Photos of the winning projects may be viewed at www.remodelalabama.com.