Lately, we've had quite a few visitors of the furry variety at Twin!
We love our Twin pups and know many of our homeowners feel the same way. We often add special touches for our clients to ensure their furry family members feel right at home.
This built-in kennel provides a beautiful and cozy place for pups to sleep.
These two are happy about their outdoor living space and special feeding area.
And Saige loves being tucked away in her cozy nook under the stairs.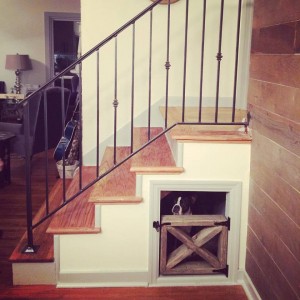 At Twin, we place importance on what is most valuable to our clients. We love knowing what makes a house feel like a home. And when that involves creating beautiful spaces for furry friends, it makes our job even more fun!