Decorating (Birmingham Home and Garden Special Interest Publications)
Summer 2009
>  Download Article (6.29MB PDF)
Kid-friendly rooms and elegant style come together under the deft hand of designer and mom of three Wendy Barze.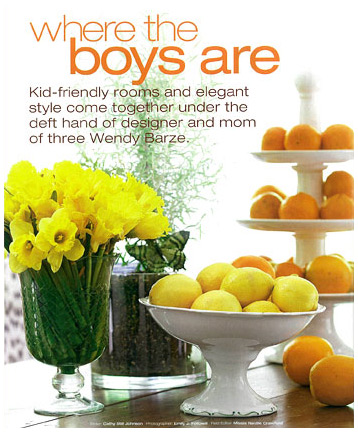 Oh, boy. Oh, boy. Oh, boy. And husband makes four. That's a lot of SportsCenter and roughhousing for Birmingham, Alabama interior designer Wendy Barze, mother of three boys ages 5-10 and caretaker of golden retriever Charlie. Thank goodness for Wendy's mom and design partner, Marjorie Johnson, who helped her create a home suited for Monday Night Football and afternoon tea.
Though Wendy's No. 1 rule is "no ball in the house," there are still plenty of places for playful family time – just as the house was originally intended. The 1940s farmhouse is located in Mountain Brook, a forested suburb established at the turn of the 20th century and designed around a system of riding trails, streams, and rocky hillsides. "I found some old photos when we moved in that show horses and a barn in the backyard." Wendy says.
Wendy and her husband, Brian, bought the house ten years ago from an estate – mold, mildew, quirky floor plan and all. "It hadn't been lived in for four year," Wendy says. "Both my mother and mother-in-law were appalled!" With a little elbow grease, lots of Martha Stewart paint, and a big box home-improvement store kitchen makeover, the house was good to go, at least for a few more years.
"We made some minor upgrades along the way, but there was still a lot we wanted to do," Wendy says. A few years ago, the craving for more bedroom and bath space for the growing family drove the family to call on Birmingham architect Debbie Simmons and contractors Twin Construction to explore possibilities and price.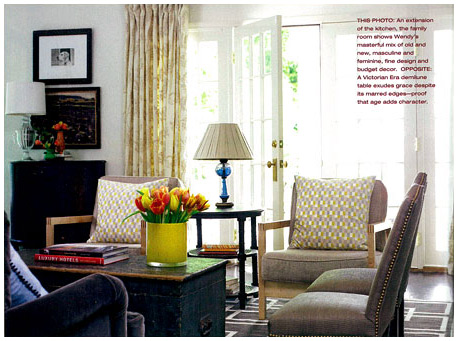 The group determined two things. It was less expensive to build out than up for a master suite and, for cost and functionality, working within the home's existing footprint would still give Wendy the rooms she wanted without adding unnecessary square footage. "Debbie took my years' worth of drawings and doodles, incorporated her knowledge and ideas, and together we came up with a great plan," Wendy says.
It took seven months to complete the new addition and reallocate space for an extra kid's room and bath. "I wanted to keep the feel of the old farmhouse," Wendy says. "So we intentionally made some of the new spaces feel tacked on."
Updated finishes, a custom kitchen, and some new furnishings dressed out the interiors for a style that Wendy calls "eclectic, random, country, modern, classic." And as incongruent as her description seems, the elements come together for a look that is distinctly hers. "It does require a balance," Wendy says.
For a color guide, Wendy looked to a painting that was a gift from her husband. There, Wendy says she found the inspiration for the home's scheme of mostly blues as well as muted earth tones, dark accents, and spots of yellow-gold. "I created a palette for the entire house – from the marble in the kitchen and baths, to the wall colors, to the bedding, to the art, "Wendy says. "I think continuity is important."
Thoughtful ideas allowed Wendy to make a home that is at once beautiful and tough enough to stand up to the boys too. Upholstery is durable, finishes are easy care, and some zones are just off-limits. And what happens when the boys cross the line? Wendy sends them outside to throw the football.