Meet Trey…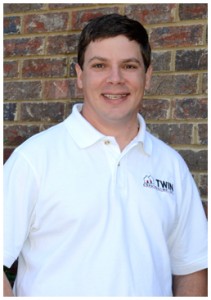 Well, you can hear him coming.  For real.  Trey's laugh is distinctive and penetrable.  It wears you down and makes you love him all the more.  Trey can act a fool, but is savvy on the work site and a customer favorite.  Every day at Twin is a little brighter with Trey.
Working hard in the field, Trey was unavailable for comment regarding the following questions.  So, we asked his alter ego, Jesse, to respond.
What is your favorite ice cream flavor? chocolate
What is one thing you do every day? Drink Coffee!!!
If you had an extra hour every day what would you do with it? Work out
If you could be any animal which one would you prefer to be and why?  Dog- because I'm a man's best friend.
Who are your two biggest heros? Dad and Sister
What song makes you want to get up and sing? Welcome to my house- Flo Rida
What is your favorite thing about your job? The people I work with every day, sub-contractors, homeowners and twin peps.
What is your biggest fear? Can I have two? Saying something stupid in front of people- wait I do that every day. Ticks- not cool.
What was your favorite childhood game to play? Truth or dare, and Doctor, duck, duck, goose
What's the best trip you have ever taken? Jamaica