MEET TJ…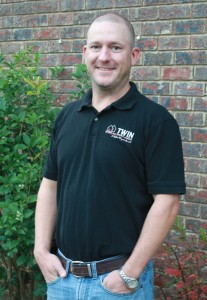 A man with a short name, but a long list of wonderful attributes.  How much does Twin love TJ?  We love his booming voice, his easy smile and steadfast way of sticking with the most difficult task. We love his quick email responses and careful attention to detail. We love his numerous hunting stories and vast collection of sun visors.  Yes, TJ's a keeper.
When asked to comment on the following questions, TJ thundered "got it!"
What's your favorite movie? Hard to pick just one…Braveheart, Top Gun, Gladiator, Dumb and Dumber, and any Austin Powers are all up there!
What's your favorite thing about your job? I love building things. Being able to see the finished product compared to what was there before is always extremely gratifying.
If you could be in a book, TV show or movie, what would it be? TV show…Big Bang Theory…They're hilarious!
Who has had the most influence in your life? My mother and father and step-father. They are all very different people and I have had the privilege of being able to try to model myself after each of their best qualities.
If you could be the master of one skill, what would it be? My golf swing.
What is one song that makes you want to get up and dance? Sugar by Maroon 5.
What's your favorite ice cream flavor? Blue Bell Birthday Cake (hopefully it will be available again one day)
What makes you a more confident person? Personally…dressing well. I like wearing my good threads! Professionally…compliments from clients and coworkers. I'm a strong believer in positive reinforcement!
What or who makes you laugh the most? Probably my 5 year old daughter. Kids say the darndest things!
What is your favorite childhood game? Hide and go seek swimming around our dock at the lake. My friends and I played it well into our teens. Also shooting pool with my dad.