Meet Chris…
Chris, Twin's gentle giant.  With a big heart and even bigger shoulders, he's a favorite among the office staff and homeowners.  When asked the following questions, Chris smiled, shrugged and answered the following: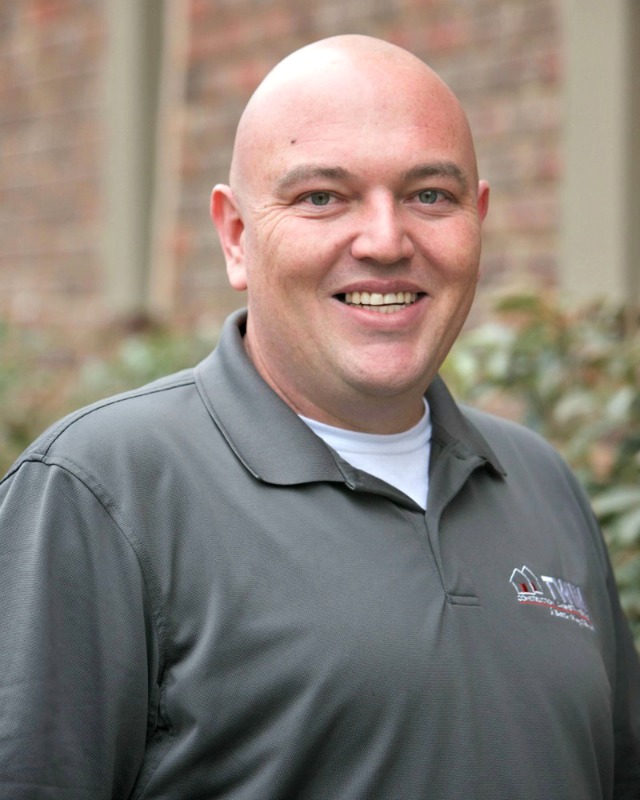 What's your favorite movie? Band of Brothers. I am struck by any type of war movie with having veterans in my family.
What's your favorite thing about your job?  Getting to know my homeowners and seeing the "before and after" of each project.
What's your favorite trip you have ever taken? Mexico. This was my most recent vacation and was by far the best!
Who are your two biggest heroes? God and my wife. There is no bigger person in the world than God and if I were half the person my wife is, I would be in good shape.
If you could be the master of one skill, what would it be? Computer Skills. I have none. I have been "hands on" in this construction trade all my life and I thought sending emails was a big deal. Ha!
What is one song that makes you want to get up and dance? I have 2 left feet, you do not want to see me dance…but turning on classic rock puts me in the mood to work.
What is something you never leave the house without? My debit card. Who carries cash anymore?
What is your favorite hobby? Riding my Harley. I love to get out on a nice day with nowhere to go, just go. Most recently, I ended up in Rome, Georgia buying lottery tickets. Of course, I never win but it's nice to dream.
What or who makes you laugh the most? My daughter, Addison. The sense of humor, cluelessness, and pure heart of a 7 year old. She cracks me up. If I could only be a kid again.
What was your favorite childhood game? Not a game but my grandfather taking me fishing. We used to go every weekend. I can still hear him say "Shhhh, you are going to scare off all the fish." You never realize what you have until it's gone.